Election Profile: Minnesota's 3rd Congressional District
Smart Politics is running a series of election profiles of Upper Midwestern congressional races leading up to the November 2nd elections. The series will culminate with Smart Politics' official projections. The seventeenth profile in the series is Minnesota's 3rd Congressional District.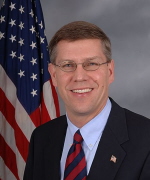 Candidates:
Republican: Erik Paulsen (1-term incumbent)
DFL: Jim Meffert
Independence: Jon Oleson
District Geography:
Minnesota's 3rd Congressional District comprises the western suburbs of Hennepin County and a small part of southern Anoka County.
History:
Erik Paulsen, a former state legislator, won the 3rd CD race left open by a retiring Jim Ramstad in 2008, by 7.6 points over DFLer Ashwin Madia.
Ramstad, a moderate to liberal Republican, had entered Congress by winning the open seat left by 10-term Republican Bill Frenzel in 1990, beating DFL nominee Lou Demars by more than a 2:1 margin (34.0 points). Ramstad thoroughly dominated his DFL opponents over the ensuing eight elections, winning by an average margin of 38.4 points. The DFL closed to within 30 points just twice – in 2004 (29.3 points, Deborah Watts) and 2006 (29.9 points, Wendy Wilde).
In 2010, Paulsen will square off against DFLer Jim Meffert, over whom the Congressman has enjoyed more than a 5 to 1 advantage in fundraising and 6 to 1 advantage in cash on hand through mid-October .
Also on the ballot is Independence Party candidate Jon Oleson. David Dillon, the Independence Party nominee in 2008, won 10.6 percent of the vote in that race.
Outlook:
Even though the 3rd CD has no GOP (or Democratic) tilt, with an "even" Partisan Voting Index score, Minnesota (and national) Democrats instead chose to invest more heavily in defeating Michele Bachmann in the much more Republican 6th CD. As a result, Meffert's campaign did not get the same level of support as 6th CD DFL challenger Tarryl Clark, even though the 3rd CD is a much more competitive district for Democrats. Barack Obama carried the 3rd CD by 6 points in 2008 while George W. Bush won it by 3 points in 2004.
One final take-home point: Minnesota's 3rd Congressional District has not voted for a DFL candidate since 1958 – a string of 25 consecutive elections.
Follow Smart Politics on Twitter.