Election Profile: Minnesota's 4th Congressional District
Smart Politics is running a series of election profiles of Upper Midwestern congressional races leading up to the November 2nd elections. The series will culminate with Smart Politics' official projections. The eighteenth profile in the series is Minnesota's 4th Congressional District.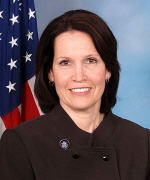 Candidates:DFL: Betty McCollum (5-term incumbent)
Republican: Teresa Collett
Independence: Steve Carlson
District Geography:
Minnesota's 4th Congressional District comprises Ramsey County, the eastern (St. Paul) region of Hennepin County, a western tip of Washington County, and the northern rim of Dakota County.
History:
Betty McCollum entered Congress by winning the open seat left by 12-term DFL congressman Bruce Vento in 2000. McCollum did not win a majority of the vote in that race, but still beat her Republican opponent Linda Runbeck by 17.1 points. Tom Foley won a then record 20.6 percent of the vote for the Independence Party.
After redistricting in 2002, McCollum handily won a second term with a 28.3-point victory margin. Third party candidates only totaled 3.9% of the vote in that race. In 2004, McCollum defeated GOP Dakota County Commissioner Patrice Bataglia by 24.3 points, with Independence Party candidate Peter Vento receiving 9.2 percent.
McCollum then coasted to victory during the Democratic waves with a 39.3-point victory over Republican Obi Sium in 2006 and 37.1-point victory over Ed Matthews in 2008.
The DFL has carried the 4th District in every race from 1948 through 2008: Eugene McCarthy won the first five elections (1948-1956), Joseph Karth won nine (1958-1974), Bruce Vento won 12 (1976-1998), and McCollum has won the last five (2000-2008).
Prior to this DFL streak, Republicans won every 4th District race from 1920 through 1946, with the exception of 1944 and 1932 (in which, due to a redistricting controversy, all nine Minnesota Representatives to the U.S. House were elected as at-large representatives).
McCollum, a former teacher and member of the North St. Paul City Council, was the second woman from Minnesota elected to serve in Washington since 1858 when Minnesota achieved statehood. McCollum serves on the House Appropriations and Budget Committees.
In 2010, McCollum will face Republican Teresa Collett and Independence Party candidate Steve Carlson. Although McCollum is one of the least funded incumbents in the Upper Midwest, she does not need to be, given her district's partisan make-up. Even without the $1+ million raised by many of her Gopher State colleagues, McCollum still outraised Collett by a 5 to 1 margin through mid-October.
Outlook:
The 32.3-point average margin of victory in the 4th CD since redistricting in 2002 makes it the 182nd most competitive House district in the nation during that span. Overall, the 4th CD has the second biggest Democratic tilt in the state, with a +13 Democratic Partisan Voting Index. The district voted for Barack Obama by 31 points in 2008 and John Kerry by 25 points in 2004.
McCollum is running in one of the most solidly Democratic congressional districts in the Upper Midwest and thus has an easy path to extend the DFL run in the district to 32 consecutive elections.
Follow Smart Politics on Twitter.