Election Profile: Minnesota's 5th Congressional District
Smart Politics is running a series of election profiles of Upper Midwestern congressional races leading up to the November 2nd elections. The series will culminate with Smart Politics' official projections. The nineteenth profile in the series is Minnesota's 5th Congressional District.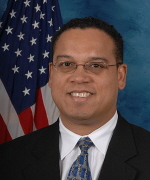 Candidates:
DFL: Keith Ellison (2-term incumbent)
Republican: Joel Demos
Independence: Tom Schrunk
Independent: Lynne Torgerson
Independent Progressive: Micahel James Cavlan
District Geography:
Minnesota's 5th Congressional District comprises the eastern (Minneapolis) region of Hennepin County and the southern tip of Anoka County.
History:
Keith Ellison filled the seat of retiring 14-term DFL Representative Martin Olav Sabo in 2006 by defeating Republican Alan Fine by a 34.3-point margin. Fine narrowly edged Independence Party candidate Tammy Lee, 21.3 to 21.0 percent (the strongest showing to date of an Independence Party candidate in a Minnesota U.S. House race).
The closest a challenger ever came to unseating Sabo during his 28-year tenure in this Democratic stronghold was in 1994 – when Dorothy Legrand fell 24.6 points short – an unsuccessful bid during the Republican Revolution.
Ellison followed up his win in 2006 with a record-breaking 48.9-point victory over GOPer Barb Davis White in 2008. This marked the largest margin of victory for a one-term incumbent in the history of the Gopher State.
The DFL has won the last 24 races in the 5th District dating back to 1962 (two by Ellison, 14 by Sabo, and eight by Donald Fraser) by an average margin of 35.4 points.
Prior to 1962, Democrats carried the 5th District only one time, in 1902 (with John Lind). Republicans won 37 of the remaining 39 5th District contests from 1890 through 1960, throughout its different geographic variations, only failing to carry the district in 1890 (Kittel Halvorson, running under the Farmers Alliance-Prohibition label) and 1936 (Dewey W. Johnson of the Farmer-Labor Party).
Ellison is the first black U.S. Representative from Minnesota, as well as the first Muslim ever elected to Congress. Ellison currently serves on the House Financial Services and Foreign Affairs Committees.
In 2010, Ellison will face Republican Joel Demos, who has tried to make headway in this DFL stronghold by going viral through a series of affable campaign ads.
Also on the ballot will be Independence Party candidate Tom Schrunk, independent Lynne Torgerson, and Michael James Cavlan, who is running under the Independent Progressive banner. Third parties have cumulatively garnered at least 5 percent of the vote in every 5th District contest since 1996.
Outlook:
Ellison serves the most reliably Democratic district in the state, and the 5th CD's +23-point Democratic Partisan Voting Index score makes it the 40th most Democratic district in the nation. Barack Obama won the district by 50 points in 2008 while John Kerry won it by 43 points in 2004.
Republicans have only eclipsed the 30 percent mark in the district in two elections since 1972 – Demos will have a strong shot at this on Tuesday.
Follow Smart Politics on Twitter.