Election Profile: Minnesota's 6th Congressional District
Smart Politics is running a series of election profiles of Upper Midwestern congressional races leading up to the November 2nd elections. The series will culminate with Smart Politics' official projections. The twentieth profile in the series is Minnesota's 6th Congressional District.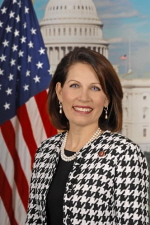 Candidates:Republican: Michele Bachmann (2-term incumbent)
DFL: Tarryl Clark
Independence: Bob Anderson
Independent: Aubrey Immelman
District Geography:
Minnesota's 6th Congressional District comprises the state's central counties of Benton, Sherburne, Wright, the eastern half of Stearns County, and most of Anoka and Washington counties.
History:
Michele Bachmann, a former 2-term State Senator and federal tax litigation attorney, entered Congress after defeating DFL nominee Patty Wetterling by 8.0 points in 2006. The race was the second most competitive U.S. House race in the Gopher State that cycle.
Bachmann held the open seat for the GOP left by 3-term Republican Mark Kennedy, who ran for the U.S. Senate in 2006. Kennedy had unseated 4-term DFL incumbent David Minge in the 2nd Congressional District in 2000. The race was extremely competitive, decided by 155 votes (0.1 points). After redistricting, Kennedy ran in 2002 in the new 6th District that had a bigger Republican base, and beat DFL nominee Janet Robert by 22.2 points. In 2004, Kennedy beat Wetterling by 8.1 points – the most competitive US House race in Minnesota that year.
In 2008, Bachmann won a high-profile contest aginst DFLer Elwin Tinklenberg. The Congresswoman's 3.0-point win was the narrowest margin of victory among all victorious GOP incumbents in the nation, and the fifth smallest among all Republican winners that November.
Bachmann serves on the House Financial Services Committee, and, over the last two years, has raised her national profile to new heights with frequent media appearances and the founding of the Tea Party Caucus – shattering state and national fundraising records all the while.
In 2010, Bachmann faces DFL State Senator Tarryl Clark, who has set fundraising records for a Minnesota challenger in her own right. All told, the fight for Bachmann's seat has seen $16.2 million in campaign contributions across all candidates – the most of any U.S. House race in the nation by more than $6 million.
Also on the ballot are two candidates who also vied for the seat in 2008. Bob Anderson is running on the Independence Party ticket, only this time with the party's endorsement (in 2008 the IP cross-endorsed Tinklenberg). Anderson notched 10.0 percent of the vote the last time around.
Aubrey Immelman is running as an independent. Immelman, a psychology professor at St. John's University, launched a write-in campaign in 2008 after Bachmann's infamous exchange with Chris Matthews of MSNBC's Hardball on October 17th. Immleman ran against Bachmann in the GOP primary that year, winning 14.1 percent of the vote.
Outlook:
Despite evoking 'strong emotions' from her opposition and representing the 11th most competitive district in the nation over the last four election cycles, all factors are in Michele Bachmann's favor to win reelection in 2010 (in addition to the general momentum towards Republicans this cycle and the millions more dollars Bachmann has raised over Clark).
Minnesota's 6th CD is the most Repubican district in the Gopher State with a +7 GOP Partisan Voting Index score. John McCain won the district by 9 points in 2008 and George W. Bush won it by 14 points in 2004.
Additionally, two-term incumbents have won 88 percent of their reelection bids in Minnesota history (75 of 85 races), with six of these 10 incumbents defeated after redistricting (election years ending in '2').
Follow Smart Politics on Twitter.