Election Profile: Minnesota's 7th Congressional District
Smart Politics is running a series of election profiles of Upper Midwestern congressional races leading up to the November 2nd elections. The series will culminate with Smart Politics' official projections. The twenty-first profile in the series is Minnesota's 7th Congressional District.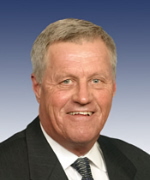 Candidates:
DFL: Collin C. Peterson (10-term incumbent)
Republican: Lee Byberg
Independence: Glen Menze
Independent: Gene Waldorf
District Geography:
Minnesota's 7th Congressional District comprises counties along the western rim of the state: Becker, Big Stone, Chippewa, Clay, Clearwater, Douglas, Grant, Kandiyohi, Kittson, Lac Qui Parle, Lake of the Woods, Lincoln, Lyon, Mahnomen, Marshall, McLeod, Meeker, Norman, Otter Tail, Pennington, Polk, Pope, Red Lake, Redwood, Renville, Roseau, Sibley, Stevens, Swift, Todd, Traverse, Wilkin, Yellow Medicine, and parts of Beltrami and Stearns counties.
History:
Collin Peterson is one of three Upper Midwesternerns in the House Blue Dog Democrats coalition. Peterson entered Congress by defeating seven-term GOP incumbent Arlan Stangeland by 7.1 points back in 1990. Peterson then narrowly won re-election in 1992 (by 1.3 points) and 1994 (2.6 points) before thoroughly dominating his GOP counterparts from 1996-2002 by an average margin of victory of 37 points.
In 2004, Peterson beat his Republican opponent David Sturrock by 32.3 points and in 2006 he rolled to a 40.7-point victory over Michael J. Barrett.
In 2008, the Congressman enjoyed the largest margin of victory of his career – 44.5 points over Republican Glen Menze (also Peterson's 2000 GOP opponent).
Peterson, Chairman of the House Agriculture Committee, has been known to frequently cross party lines and vote with the GOP, as he did on this year's infamous health care legislation.
In 2010, Peterson squares off against Republican Lee Byberg, Menze for a third time (this time on the Independence Party ticket), and independent Gene Waldorf (a former DFL State Representative and Senator).
Outlook:
The 7th Congressional District has the second largest GOP tilt in the Gopher State at +3 points. John McCain carried the district by 7 points in 2008 while George W. Bush won it by 12 points in 2004. Tim Pawlenty also carried the district by a decisive 8.4 points in 2006.
Despite its conservative tendencies, Republicans have not offered up a competitive candidate against Peterson in the district over the last six election cycles. As a result, since redistricting in 2002, Peterson has enjoyed a 37.1-point average margin of victory.
Byberg offers Republicans their best shot to reach 40 percent in the district in 16 years, although the third party and independent candidacies of Menze and Waldorf respectively may make that difficult.
Follow Smart Politics on Twitter.