Election Profile: Wisconsin's 8th Congressional District
Smart Politics is running a series of election profiles of Upper Midwestern congressional races leading up to the November 2nd elections. The series will culminate with Smart Politics' official projections. The fourteenth profile in the series is Wisconsin's 8th Congressional District.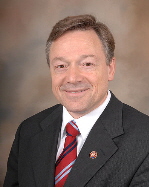 Candidates:
Democrat: Steve Kagen (2-term incumbent)
Republican: Reid Ribble
District Geography:
Wisconsin's 8th Congressional District comprises the northeastern counties of Brown, Door, Florence, Forest, Kewaunee, Marinette, Menominee, Oconto, Outagamie, Shawano, Vilas, Waupaca, and parts of Langlade and Oneida counties.
History:
Kagen won the 8th District's open-seat race in 2006 by 2.1 points over Republican John Gard, as well as the 2008 rematch by 8.1 points.
Four-term Republican Mark Green had held the seat before his failed 2006 gubernatorial candidacy in the Badger State. In fact, Republicans had won the 8th District in 13 of the previous 14 election cycles, dating back to 1978, with the only Democratic victory during that span coming in 1996 (Jay W. Johnson, by 4.1 points). The GOP had an average margin of victory of 30.8 points across those 13 cycles.
Kagen, a physician, serves on the House Committee on Agriculture and the Committee on Transportation and Infrastructure.
Kagen's 2010 opponent is Republican roofing contractor Reid Ribble. Even though Kagen had raised greater than $600,000 more than his opponent through mid-October, Ribble had nearly $150,000 more cash on hand for the closing few weeks of the campaign.
Outlook:
From 1978 to 2004, only 3 of the 14 elections in the 8th District were decided by less than 10 points. During the last two election cycles, the district has been one of the most competitive in the nation. Overall, the 8th CD has a +2 point GOP tilt during the last two presidential election cycles – with Barack Obama winning the district by 9 points in 2008 and George W. Bush carrying it by 11 points in 2004. Kagen's fairly liberal voting record (the 106th most liberal in the House in 2009 according to National Journal) will not win him any new converts in this district in the current political environment as he seeks to return to D.C. for a third term.
Follow Smart Politics on Twitter.