Smart Politics Projections: South Dakota U.S. House
Herseth Sandlin tries to avoid the biggest fall by a U.S. House incumbent in South Dakota history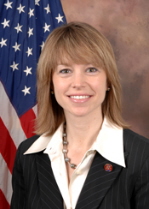 Current delegation partisan split
Democrats: 1 at-large seat
Incumbents
Democratic incumbents: 1
Analysis
South Dakota's at-large race in 2010 is a quintessential 'toss-up' contest with two competing variables in play.
On the one hand, Representative Stephanie Herseth Sandlin has been personally well-regarded by her electorate throughout most of her six years in office and, in true Blue Dog Democrat fashion, she does not have the voting history that might ordinarily alienate the conservative South Dakota electorate in a GOP-leaning year.
However, the problem for Herseth Sandlin is not simply that she is facing a worthy opponent in 2010 (Kristi Noem is the Assistant Majority Leader in South Dakota's House of Representatives), but that the Congresswoman has no padding at the top of the ticket.
Not only is Republican gubernatorial nominee Dennis Daugaard expected to win big, but the Democratic Party's failure to field a candidate in the U.S. Senate contest against 1-term GOP incumbent John Thune marks the first time in 34 contests since popular vote U.S. Senate elections were introduced in 1914 that a Democratic candidate has not appeared on the ballot in South Dakota.
The net result is that if Roem should upset the Congresswoman on Tuesday, Herseth Sandlin's plunge from a 35.1-point victory over her GOP rival in 2008 to a loss in 2010 would mark the biggest fall by a U.S. House incumbent in Mount Rushmore State history.
Such a fall would be certainly unusual. So, unusual, in fact, that perhaps Noem's momentum will be curbed at the 11th hour by South Dakota's independent streak that often finds its electorate splitting its ballot. The Republican-heavy state has elected Democrats in 11 of 15 at-large elections since the number of South Dakota's representatives dropped from two to one in 1982, without voting for a Democratic president or governor once during this span.
Projection
SD-AL. Stephanie Herseth Sandlin (Democratic hold)
Partisan shift: No change
Follow Smart Politics on Twitter.