Smart Politics Projections: U.S. Senate
Divided country could have equally divided U.S. Senate in 2011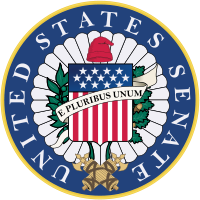 Current partisan split
Democrats: 57
Republicans: 41
Independents: 2
On the ballot
Total Democratic seats: 19
Total Republican seats: 18
Incumbents
Democratic incumbents: 12
Open Democratic seats: 7
Republican incumbents: 11
Open Republican seats: 7
Unchallenged seats
No Democrat on the ballot: 1 (South Dakota)
No Republican on the ballot: 0
Analysis
With several races considered by many D.C. analysts still falling into the 'toss-up' category late in the election cycle, the balance of power in the U.S. Senate will undoubtedly be one of the most important story lines to watch Tuesday evening and into Wednesday morning.
It is quite likely, with horserace polling in so many Senate matchups finding candidates within just a few points of each other, that a few of these candidates who are purportedly 'ahead' will end up defeated on Election Day.
Add to that the high drama taking place in Alaska between two Republicans – one off and one on the ballot – and U.S. Senate races may very well take center stage even as Republicans rack up many gubernatorial seats and dozens of U.S. House pick-ups.
Projections
Alabama. Richard Shelby (GOP hold)
Alaska. Joe Miller (GOP hold)
Arizona. John McCain (GOP hold)
Arkansas. John Boozman (GOP pick-up)
California. Barbara Boxer (Democratic hold)
Colorado. Ken Buck (GOP pick-up)
Connecticut. Richard Blumenthal (Democratic hold)
Delaware. Chris Coons (Democratic hold)
Florida. Marco Rubio (GOP hold)
Georgia. Johnny Isakson (GOP hold)
Hawaii. Daniel Inouye (Democratic hold)
Idaho. Mike Crapo (GOP hold)
Illinois. Mark Kirk (GOP pick-up)
Indiana. Dan Coats (GOP pick-up)
Iowa. Chuck Grassley (GOP hold)
Kansas. Jerry Moran (GOP hold)
Kentucky. Rand Paul (GOP hold)
Louisiana. David Vitter (GOP hold)
Maryland. Barbara Mikulski (Democratic hold)
Missouri. Roy Blunt (GOP hold)
Nevada. Sharron Angle (GOP pick-up)
New Hampshire. Kelly Ayotte (GOP hold)
New York. Chuck Schumer (Democratic hold)
New York (special). Kirsten Gillibrand (Democratic hold)
North Carolina. Richard Burr (GOP hold)
North Dakota. John Hoeven (GOP pick-up)
Ohio. Rob Portman (GOP hold)
Oklahoma. Tom Coburn (GOP hold)
Oregon. Ron Wyden (Democratic hold)
Pennsylvania. Pat Toomey (GOP pick-up)
South Carolina. Jim DeMint (GOP hold)
South Dakota. John Thune (GOP hold)
Utah. Mike Lee (GOP hold)
Vermont. Patrick Leahy (Democratic hold)
Washington. Dino Rossi (GOP pick-up)
West Virginia. Joe Manchin (Democratic hold)
Wisconsin. Ron Johnson (GOP pick-up)
Partisan shift: GOP +9
Partisan control: Tie (Democratic tie-breaker)
Follow Smart Politics on Twitter.