Smart Politics Projections: U.S. House of Representatives
Republicans aim to undo 2006 and 2008 election cycles in one fell swoop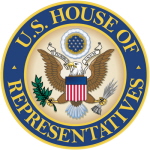 Current partisan split
Democrats: 255
Republicans: 178
Vacant: 2
Analysis
With 24 Democratic districts won by less than 10 points in 2008 and another 33 decided by between 10 and 20 points, Republicans had several good departure points by which to pick off the dozens of Democratic seats they would need this cycle to recapture the U.S. House.
Of course, the reverse could also have been the case, had the first two years of the Obama administration been more warmly received by the electorate: Republicans won 26 House districts by less than 10 points in 2008 as well.
The number of Republican net gains has been projected by some analysts to potentially eclipse 70 seats. However, as this is an anti-Democratic, rather than pro-Republican political environment, not all anti-incumbent votes in Democratic districts will be cast to the GOP nominee. A record number of third-party candidates in midterm elections since the Great Depression, most of which are right-leaning, may very well dampen the extent of Republican gains, to the tune of at least a half-dozen narrowly-decided races.
Projected partisan shift: GOP +62
Partisan control: GOP controls U.S. House
Follow Smart Politics on Twitter.