Nancy Pelosi 1 of 8 House Democrats to Win by Bigger Margin in 2010 than 2008
Only 3 percent of 230 Democratic U.S. House incumbents on the ballot increased their margin of victory in 2010 compared to 2008; Nancy Pelosi had the second largest increase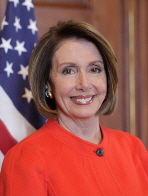 With Democrats on track to lose up to 65 net seats by the time all ballots are counted across the nation's 435 congressional districts, one has to look long and hard to find any good news for the once 255-member caucus as its numbers will be sliced by a quarter come January.
However, in the face of the rout endured by the Party overall, a handful of congressional districts actually were more supportive of their Democratic incumbents last Tuesday than during the previous election cycle.
Smart Politics calculates just eight Democratic incumbents won by a larger victory margin during the Republican landslide of 2010 than during the Democratic wave of 2008 – including lightning rod (and outgoing) House Speaker Nancy Pelosi, who improved by the second largest margin out of the entire Democratic caucus.
In 2008, a total of 257 Democrats won their U.S. House contests – 230 of which defended their seats in the 2010 general election.
Of the remaining 27 Democrats who won election in 2008:
· Two were defeated in the Democratic primaries: Alan Mollohan, WV-01; Carolyn Cheeks Kilpatrick, MI-13
· Seven resigned during or just prior to the 111th Congress: Rahm Emmanuel, IL-05; Kirsten Gillibrand, NY-20; Hilda Solis, CA-32; Ellen Tauscher, CA-10; Robert Wexler, FL-19; Neil Abercrombie, HI-01; Eric Massa, NY-29
· 17 retired or chose to seek higher political office: Artur Davis, AL-07; Marion Berry, AR-01; Vic Snyder, AR-02; Diane Watson, CA-33; Kendrick Meek, FL-17; Brad Ellsworth, IN-08; Dennis Moore, KS-03; Charlie Melancon, LA-03; Bill Delahunt, MA-10; Bart Stupak, MI-01; Paul Hodes, NH-02; Joe Sestak, PA-07; Patrick Kennedy, RI-01; Bart Gordon, TN-06; John Tanner, TN-08; Brian Baird, WA-03; David Obey, WI-07
· One died in office: John Murtha, PA-12
Of the 230 Democratic incumbents who made it on the general election ballot this November, 221 had a smaller margin of victory – or lost their election outright. One incumbent had the same margin of victory as in 2008, and eight incumbents enjoyed a more comfortable victory margin.
Overall, these 230 Democrats saw an average erosion of 21.7 points in 2010 from their 2008 victory margins.
Who are "The Magnificent Eight?"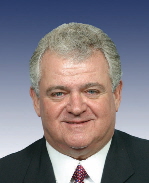 Bob Brady (PA-01), a 7-term Congressman from Philadelphia (PA-01), leads the way – with an 18.4 point improvement on his victory margin from 2008, although achieving this on a bit of a technicality. In 2008, Brady defeated Republican Mike Muhammad by 81.6 points. In 2010, Brady ran unopposed in his district, winning 100 percent of the vote.
Nancy Pelosi's district (CA-08) also rallied around her on November 2nd, increasing her victory margin by 9.5 points from the previous cycle.
In 2008, Pelosi defeated her next closest opponent, independent anti-war activist Cindy Sheehan, by 55.7 points, 71.9 to 16.2 percent (Republican Dana Walsh came in third place with 9.7 percent). Last Tuesday, Pelosi received 80.2 percent of the vote, with Republican John Dennis winning just 15.0 percent – for a 65.2-point victory. (Note: the D+35 Partisan Voting Index of Nancy Pelosi's district makes it one of the Top 10 most Democratic districts in the nation).
Nine-term Democratic incumbent Nydia Velázquez (NY-12) increased her margin of victory by 7.4 points in 2010, although she did not face a GOP opponent. In 2008, Congresswoman Velázquez defeated Republican Allan Romaguera by 78.4 points. In 2010, Velázquez defeated frequent Conservative Party candidate Alice Gaffney by a 92.9 to 7.1 percent margin, or 85.8 points.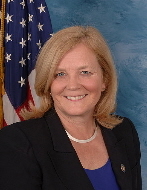 One of the more impressive Democratic performances came in Maine's 1st Congressional District, held by freshman Representative Chellie Pingree.
Pingree's seat was viewed by some prognosticators as one of several dozen vulnerable Democratic districts in the nation. (Ranked as a 'toss-up' by Charlie Cook and 'Democrat favored' by Stuart Rothenberg). Even still, the Congresswoman eclipsed her 9.2-point win in 2008 over Republican Charles Summers with a 13.6-point victory in 2010 over Dean Scontras.
In another tight race involving a northeastern freshman Democrat, James Himes (CT-04) improved on his 3.8-point victory in 2008 (ousting GOP incumbent Chris Shays), with a 6.2-point win over Dan Debicella.
Also improving his standing in 2010 was 4-term incumbent David Scott from Georgia's 13th CD. Scott won his safe district by 38.0 points in 2008 over Deborah Honeycutt (69.0 to 31.0 percent) and increased that margin to 41.0 points in 2010, defeating Republican Mike Crane 70.5 to 29.5 percent.
Bob Brady's Pennsylvania delegation colleague Chaka Fattah (PA-02) also made the list – winning by 0.8 more points in 2010 (by 78.6 points against GOPer Rick Hellberg) as compared to 2008 (by 77.8 points over Adam Lang).
In California's 34th CD, 9-term incumbent Lucille Roybal-Allard also slightly made gains on the Republican opposition in her safe Democratic district. In 2008, Roybal-Allard defeated Christopher Balding by 54.2 points, while on Tuesday she won her 10th term by 54.8 points over Wayne Miller.
One other Democratic candidate did not lose ground in 2010. Six-term Democrat Michael Capuano (MA-08) did not face a challenger in either 2008 or 2010, winning 100 percent of the vote each cycle.
And as for the remaining 221 members of the Democratic delegation?
· Slightly more than 1 in 5 Democratic incumbents lost ground from the 2008 election cycle by less than 10 points, with 50 nominees (21.7 percent) seeing their victory margin decrease by just single digits, including six who saw it translate into a margin of loss: Bobby Bright (AL-02), Tom Perriello (VA-05), Dina Titus (NV-03), John Adler (NJ-03), Mark Schauer (MI-07), and Michael Arcuri (NY-24).
· Nearly 3 in 10 incumbents (67 Democrats) saw their margin of victory fall from 2008 by between 10 and 19 points, including 15 who were defeated.
· Nearly 1 in 4 incumbents (53 Democrats) endured a drop in their 2008 margin of victory of between 20 and 29 points, including 14 who lost their race.
· Another 1 in 3 incumbents (51 Democrats) saw their 2008 margin of victory decline by 30 or more points , including 17 who came up short at the ballot box.
And which Democrats went from feast to famine from 2008 to 2010 more than any other?
That prize is shared by Rick Boucher (VA-09) and Phil Hare (IL-17).
Both incumbents ran unopposed in 2008 – only to be defeated at the ballot box in 2010: Boucher by a 4.8-point margin and Hare by 9.6-points.
As a result, both candidates saw a drop in their 2008 victory margin of more than 100 points.
Democratic U.S. House Incumbent Change in Victory Margin from 2008 to 2010
| | | |
| --- | --- | --- |
| Point difference | # | Percent |
| +10 to 19 points | 1 | 0.4 |
| +0 to 9 points | 7 | 3.0 |
| Even | 1 | 0.4 |
| -0 to 9 points | 50 | 21.7 |
| -10 to 19 points | 67 | 29.1 |
| -20 to 29 points | 53 | 23.0 |
| -30 to 39 points | 29 | 12.6 |
| -40 to 49 points | 3 | 1.3 |
| -50 to 59 points | 9 | 3.9 |
| -60 to 69 points | 3 | 1.3 |
| -70 to 79 points | 1 | 0.4 |
| -80 to 89 points | 4 | 1.7 |
| -90 to 99 points | 0 | 0.0 |
| -100 to 109 points | 2 | 0.9 |
| Total | 230 | 100.0 |
Table compiled by Smart Politics.
Follow Smart Politics on Twitter.