Did an Independent Turn South Dakota's 2010 U.S. House Race?
B.Thomas Marking turns in the best performance by a South Dakota U.S. House independent or third party candidate in 80 years
South Dakota saw several historical records fall on November 2nd – each to the detriment of the Democratic Party.
First, the Democratic Party's failure to field a candidate in the U.S. Senate contest against one-term GOP incumbent John Thune marked the first time in 34 contests since popular vote U.S. Senate elections were introduced in 1914 that a Democratic candidate has not appeared on the ballot in South Dakota.
Second, in the state's at-large U.S. House contest, four-term incumbent Stephanie Herseth Sandlin's plunge from a 35.1-point victory over her GOP rival in 2008 to a 2.2-point loss in 2010 to Kristi Noem was the biggest cycle-to-cycle tumble for a U.S. House incumbent from either party in Mount Rushmore State history.
But South Dakotans also made modern political history on November 2nd when they cast 6.0 percent of their vote to independent challenger B.Thomas Marking – in a race decided by just 2.2 points.
A Smart Politics analysis of South Dakota electoral history finds the 6 percent notched by Marking was the largest support directed to an independent or third party U.S. House candidate in 80 years.
The last time a candidate not affiliated with the Democratic or Republican parties reached the six percent mark in a U.S. House race in South Dakota was in 1930, when independent Henry Bormann won 15.3 percent in defeat to six-term GOP incumbent Charles Christopherson.
However, no Democratic candidate was on the ballot in that year's 1st CD race.
The last time an independent or third-party candidate won six percent of the vote in a South Dakota U.S. House race contested by both major political parties was 1926, when Farmer-Laborite Alli Reed won 6.1 percent in the state's 1st CD contest.
In an interview with Smart Politics, B.T. Marking discussed his campaign, his effect on the 2010 race, and the outlook for independent political contenders in South Dakota in future election cycles.
Marking, a graduate of The Citadel, launched his 2010 campaign after 17 years of civil service experience (with the Navy, GSA, CAB, and FEMA), 11 years of foreign service with experience in U. S. Embassies in Pakistan, the Philippines, and Turkey, and three years experience in South Dakota Government. He is currently an on-call Disaster Reservist for FEMA.
Marking downplays the inroads his campaign made in a state in which third party and independent candidates have not garnered much attention or support from the electorate in generations.
"The only way I can claim success is if this test is graded on a curve," he said. "Look what the indie achieved with about $10,000 in funding and look what my Democratic & Republican opponents achieved with $2-3 million."
Marking distinguishes the nuts and bolts of his independent campaign from those of third party candidates who have previously attempted U.S. House runs in the past, stating most of them are "single-issue zealots."
Marking believes the most appealing feature of his campaign was his plan to implement an Advisory Voting System and hold quarterly referenda.
The plan, if he had been elected, was to set up a secure computer system and register all interested South Dakota voters, so they could cast ballots on national domestic and foreign policy issues. Marking's platform stated: "The majority decisions of these referenda will dictate my voting on bills brought to the floor of the House."
Marking added, "This would have been the first use of such a system on this level. As an Independent, I could promise to abide by the decisions reached in these referenda. South Dakotans would have retained control over their representative.
Under the present system, the political party chain of command too often controls the vote of our one representative. South Dakotans could have redefined what it means to be an American citizen."
However, despite his history-making campaign, Marking says his U.S. House run is not distinguished from those of other third parties: "They get a few percent of the vote. Six percent doesn't separate me from them."
Marking says he views South Dakota's 2010 house race as a test of the political system.
He posited, "Could a highly qualified candidate, with 31 total years in government service at all levels, with reality-based solutions and fresh ideas compete outside the two-party system? The answer was a resounding NO. Elections aren't about credentials and concepts, they are an exercise in mass marketing."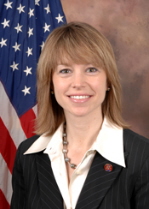 <Nonetheless, winning six percent in a race decided by just over 2 percent has some – including many Herseth Sandlin supporters wondering – did Markings' presence help shape the outcome of the race?
When asked for what candidate he believes the more than 19,000 South Dakotans would have voted had his name not been on the ballot – or whether they would have come out to vote at all – Marking stated:
"I think I pulled equally from both sides. My views were fairly conservative, but a lot of my supporters were disallusioned Dems."
And as for the future of independents in South Dakota?
Marking is skeptical they will be able to thrive above and beyond what his campaign was able to accomplish in 2010.
"I've learned that those who are registered Independents are not sufficiently cohesive in their thinking to organize and motivate. In fact, many have just checked out of all things political. They certainly didn't rise up to support the Indie in this contest."
Still, Marking suggests there is a definite movement away from the two-party system across the nation.
"More and more Americans are coming to the realization that the major parties are not solving our problems, they are creating or exacerbating them and, in many cases, are the principle obstacle to solving our problems. For example, our incomprehensible tax system is strangling the U.S. economy, destroying the middle class, threatening our sovereignty and our national solvency. However, the major parties will not replace it because they benefit from the power to manipulate it to their own aims."
It is clear from Marking's tone and ideas that he did not run for Congress on a lark, and was a serious independent candidate.
However, the experience of running in a race in which Herseth Sandlin and Noem each spent north of $1.5 million, has dissuaded Marking from throwing his hat into the ring again.
"The only way I would consider running again is if there were equal and very restricted public funding of campaigns. Only then will candidates like me be able to overcome the financial barriers to political participation and compete on a level playing field. Until then, the major parties will continue to abuse their legislative powers and give us bad answers to the wrong questions."
Independent and Third Party South Dakota U.S. House Candidacies, 1932-2010
| | | | | | |
| --- | --- | --- | --- | --- | --- |
| Year | District | Candidate | Party | Votes | Percent |
| 2010 | SD-AL | B.T. Marking | Independent | 19,100 | 6.0 |
| 1994 | SD-AL | Ronald Wieczorek | Independent | 10,832 | 3.5 |
| 1996 | SD-AL | Stacey L. Nelson | Independent | 10,397 | 3.2 |
| 1996 | SD-AL | Kurt Evans | Independent | 6,866 | 2.1 |
| 1992 | SD-AL | Ronald Wieczorek | Independent | 6,746 | 2.0 |
| 2000 | SD-AL | Brian Lerohl | Libertarian | 5,357 | 1.7 |
| 2006 | SD-AL | Larry Rudebusch | Libertarian | 5,230 | 1.6 |
| 1932 | SD-01 | Paul L. Werth | Liberty | 3,332 | 1.6 |
| 1992 | SD-AL | Robert J. Newland | Libertarian | 3,931 | 1.2 |
| 1934 | SD-01 | C. H. Sharp | Independent | 2,338 | 1.1 |
| 2002 | SD-AL | Terry Begay | Libertarian | 3,117 | 0.9 |
| 1992 | SD-AL | Ann Balakier | Independent | 2,780 | 0.8 |
| 1976 | SD-01 | Donald Stevens | Independent | 1,282 | 0.8 |
| 2004 | SD-AL | Terry Begay | Libertarian | 2,808 | 0.7 |
| 1932 | SD-01 | Lydia B. Johnson | Independent | 1,467 | 0.7 |
| 1932 | SD-02 | Arne Jaskela | Independent | 251 | 0.4 |
| 1932 | SD-01 | Roy Miller | Independent | 297 | 0.1 |
Table compiled by Smart Politics.
Follow Smart Politics on Twitter.