Murkowski Wins More Votes Than All Statewide Write-in Candidates in Alaska History Combined
Only 94,926 Alaskans had cast their ballot for statewide write-in candidates over the previous 52 years; Murkowski eclipses 100,000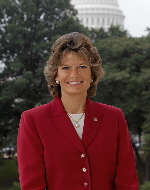 Republican write-in U.S. Senate candidate Lisa Murkowski not only made history in Alaska today – with the Associated Press declaring her the winner in her contest over GOPer Joe Miller – but she did so in stunning fashion.
Smart Politics finds Murkowski won more write-in votes in 2010 than all those cast in the history of statewide elections in Alaska (Governor, US Senate, US House) – elections which included write-in campaigns by a sitting Senator (Ernest Gruening, 1968), a former Governor (Wally Hickel, 1978 and 1986), and a GOP-endorsed write-in candidate for Governor (Robin Taylor, 1998).
And it nearly took every one of these write-in votes for Murkowski to come out on top.
The eight previous write-in campaigns for statewide office in Alaska over the past 50+ years tallied 94,926 votes.
After Tuesday, Murkowski had won 100,868 votes, including 8,153 ballots that were counted, but contested by Miller (who sat at 90,448 votes).
Given this historical context, Murkowski's vote tally is an incredible feat – even after discounting her well-known surname and the large amount of money she had to spend to educate a relatively small electorate on the write-in process.
When Wally Hickel ran for governor as a write-in candidate in 1978 – setting the previous Alaskan mark of 26.4 percent – there were slightly more than 126,000 ballots in play.
When Robin Taylor ran for governor as a write-in in 1998 (winning a previous best 40,209 votes), there were slightly more than 220,000 ballots cast in that year's gubernatorial race.
More than 254,000 ballots were counted in the Last Frontier State's 2010 U.S. Senate race, with Murkowski winning more than 39 percent of the vote.
Write-In Candidacies in Alaskan Statewide General Elections, 1958-2010
Year

Candidate

Office

Votes

Percent

Place

1958

Keith Capper

US Senate

599

1.2

3 of 3

1968

Ernest Gruening

US Senate

14,118

17.4

3 of 3

1978

Wally Hickel

Governor

33,555

26.4

2 of 5

1986

Wally Hickel

Governor

4,958

2.8

4 of 6

1986

Ed Hoch

Governor

107

0.1

6 of 6

1998

Robin Taylor

Governor

40,209

18.3

2 of 8

1998

Wayne Ross

Governor

801

0.4

7 of 8

1998

Nick Begich, Jr.

Governor

579

0.3

8 of 8

2010

Lisa Murkowski

US Senate

100,868*

39.6*

1 of 6
* Unofficial results. Sources: Office of the Clerk, U.S. House of Representatives; State of Alaska Division of Elections. Table compiled by Smart Politics.
Follow Smart Politics on Twitter.