Bachmann Survives Sixth Closest Victory Among 2010 Republican House Incumbents
Fellow controversial Congressman Joe Wilson (SC-02) at #3; Bachmann had the narrowest victory among GOP incumbents in 2008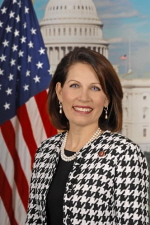 Although Minnesota's 6th Congressional District race did not provide the drama in 2010 that many on the left had hoped and expected, Michele Bachmann did have to fight for her victory over DFLer Tarryl Clark – at least compared to most of her fellow Republican incumbents in the U.S. House.
A Smart Politics analysis of unofficial U.S. House election returns finds Michele Bachmann won with the sixth narrowest victory margin in the midterm elections among the 154 Republican incumbents who won reelection on November 2nd.
Bachmann's 12.7-point victory was 29.1 points lower than the 41.8-point nation-wide average for victorious Republican incumbents this year.
In 2008, Congresswoman Bachmann had the narrowest victory margin among successful GOP incumbents at 3.0 points, making her one of the prime targets for Democrats across the country.
In 2010, only four Republican incumbents escaped defeat by less than 10 points – compared to 15 in 2008.
Another two GOP incumbents lost their 2010 reelection bids: Charles Djou of HI-01 and Joseph Cao of LA-02.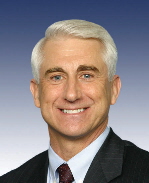 Dave Reichert of Washington's 8th CD, who is perennially on the hot seat, survived with the narrowest victory margin among Republican incumbents, at 4.1 points.
Reichert had won his first three terms by just 4.8 points in 2004, 3.0 points in 2006, and 5.6 points in 2008, in a district that has a +3 point Democratic tilt.
Also winning by single digits in 2010 were Daniel Lungren (CA-03, by 7.0 points), Joe "You lie!" Wilson (SC-02, by 9.7 points), and Mary Bono Mack (CA-45) by 9.9 points.
Jim Gerlach (PA-06), who represents the most competitive U.S. House district in the nation since 2002, had the 7th narrowest victory for GOP incumbents at 14.0 points.
The fact that two of the most controversial Republican Representatives in the U.S. House – Bachmann and Wilson – managed only relatively narrow victories in 2010 compared to the rest of their caucus is quite telling.
What they had in common were very well-financed opponents.
Tarryl Clark raised more than $3.5 million through September 2010 while Wilson's opponent, Rob Miller, raised over $2.8 million through the third quarter of this year.
Bachmann's district has a +7 point GOP tilt while Wilson's has a +9 point tilt, according to their Partisan Voting Index scores.
Bachmann's congressional district is currently the most populated in the Gopher State and will thus shed the most residents after redistricting (and perhaps reapportionment) before the 2012 election.
Until new district lines are drawn – and Bachmann's 2012 intentions are determined – it is difficult to know whether or not she will once again be one of the Top 10 most vulnerable Republicans in the House for a third straight cycle.
Top 10 Narrowest Victories by Republican U.S. House Incumbents in 2010
District

Incumbent

Terms

2010

WA-08

Dave Reichert

3

4.1

CA-03

Daniel Lungren

8

7.0

SC-02

Joe Wilson

5

9.7

CA-45

Mary Bono Mack

7

9.9

CA-44

Ken Calvert

9

11.6

MN-06

Michele Bachmann

2

12.7

PA-06

Jim Gerlach

4

14.0

PA-15

Charles Dent

3

14.5

CA-02

Wally Herger

12

15.4

OH-12

Pat Tiberi

5

15.8
Note: Margins based on unofficial results as most states have not yet certified their election returns. Table compiled by Smart Politics.
Follow Smart Politics on Twitter.