History Gives Klobuchar a 2 in 3 Chance to Win Reelection in 2012
10 of 15 freshmen Minnesota U.S. Senators have won reelection to a second term since popular vote contests began 100 years ago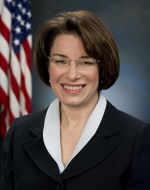 As the calendar turned from November 2nd to November 3rd, discussions of politics quickly shifted from 2010 to 2012.
While it is unclear at this time what the political temperature of the electorate will be 23 months from now, one thing is for certain: in the U.S. Senate, Democrats have much more to lose.
The Democratic caucus will have 23 seats on the ballot in 2012 compared to just 10 for Republicans. And Republicans in some states are already lining up to take their swing at the prize (e.g. Sarah Steelman vying for Claire McCaskill's seat in Missouri).
One of those 23 seats is held by Minnesota DFLer Amy Klobuchar.
And while Klobuchar has enjoyed approval ratings in the high 50s to low 60s for most of her first four years in office, the 2010 election cycle demonstrated the vulnerability of moderately popular incumbents in her backyard (e.g. Russ Feingold of Wisconsin).
So what are the odds of Senator Klobuchar winning a second term in 2012?
Taking the long view of Minnesota political history, only so-so.
A Smart Politics study of Minnesota U.S. Senate elections since popular vote contests were introduced in the Gopher State in 1912 finds that a majority of freshman incumbents are not elected to a second term (only 10 of 22).
Of those freshmen that sought reelection, 10 were victorious with five going down in defeat – including the last two (Rod Grams and Norm Coleman).
Adding in Mark Dayton, who chose not to seek reelection in 2006, each of the last three freshman senators from Minnesota failed to come back to Washington for a second term.
Overall, 12 freshman from the Gopher State did not return to D.C. for a sophomore term as Senator. Seven of these, however, never even ran for a second term:
· One died in office: Farmer-Laborite Ernest Lundeen (in 1940).
· One ran for Governor: Farmer-Laborite Elmer Benson (in 1936).
· And five others retired from their post: Republican special election winners Guy Howard (in 1937) and Arthur Nelson (in 1943), appointees DFLer Muriel Humphrey (in 1978) and IPer Dean Barkley (in 2003), and DFLer Mark Dayton (in 2007).
That leaves five freshman from Minnesota who were defeated in their attempts to retain their Senate seat.
The first such freshman to lose was Republican Frank Kellogg, who saw his 17.8-point victory in 1916 turn into a 12.1-point loss in 1922 to Farmer-Laborite Henrik Shipstead.
Farmer-Laborite Magnus Johnson lost his 1924 reelection bid by 1-point to GOPer Thomas Schall, nearly one and a half years after his 18.8-point special election victory over Governor J.A.O. Preus in 1923.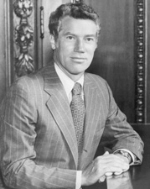 DFLer Wendell Anderson lost in his 1978 senatorial campaign to retain the seat to which he appointed himself as governor two years prior.
Anderson went down in defeat by a decisive 16.2 points to Republican Rudy Boschwitz – losing a seat the DFL had held since the late 1940s.
In 2000, freshman Republican Rod Grams saw his 5-point victory from 1994 turn into a 5.5-point loss to DFLer Mark Dayton.
Eight years later, Republican Norm Coleman famously lost his Senate seat by 312 votes to DFLer Al Franken – decided by the most expensive recount in U.S. history.
That leaves 10 freshman Senators from the Gopher State who did return to their office in Washington for another six-year term – or two in three who were successful.
Freshman winners are: Farmer-Laborite Henrik Shipstead (in 1928), Republicans Thomas Schall (1930), Joseph Ball (1942), Edward Thye (1952), Dave Durenberger (1982), and Rudy Boschwitz (1984), and DFLers Hubert Humphrey (1954), Eugene McCarthy (1964), Walter Mondale (1966), and Paul Wellstone (1996).
These senators won their second terms by an average of 14.2 points.
Of these 10 Senators who successfully won a second stint in D.C., eight had been elected to the upper chamber for their first term (Shipstead, Schall, Thye, Humphrey, McCarthy, Durenberger, Boschwitz, and Wellstone) while two had been appointed to their seats (Ball and Mondale).
But while 2:1 historical odds may sound decent for Klobuchar in 2012, that number is less impressive when compared to the freshman reelection rate for most Upper Midwestern states:
· In North Dakota, only one freshman Senator has lost a reelection bid (Republican Mark Andrews in 1986), with seven returning for a sophomore term for an 87.5 percent election success rate.
· In Wisconsin, nine freshman have won reelection, with only two coming up short for an 81.2 percent success rate.
· In South Dakota, 10 freshman won a second term with four falling to defeat for a 71.4 percent success rate.
· Only in Iowa have newly minted senators historically had a more difficult time in winning a second term than in Minnesota, with seven senators victorious and seven losing their seat.
Upper Midwestern Freshman U.S. Senator Election Rate
State

Won

Lost

DNR

Died

Total

% Won

North Dakota

7

1

2

2

12

87.5

Wisconsin

9

2

0

1

12

81.2

South Dakota

10

4

4

1

19

71.4

Minnesota

10

5

6

1

22

66.7

Iowa

7

7

3

1

18

50.0

Total

43

19

15

6

83

69.4
DNR = Did not run for another term. Freshman data includes appointees and those elected to a first term via special election. Final column indicates only the percentage of freshman senators who ran for reelection and were victorious. Data compiled by Smart Politics.
Overall, Upper Midwestern freshman senators have won 43 of 62 election contests, or 69.4 percent.
One thing going in Klobuchar's favor, however, is that none of the five freshman Senators from Minnesota that lost their second term bids received as much as the 58.1 percent of the vote she notched in 2006 against Republican Mark Kennedy.
In fact, only one received more than 50 percent of the vote.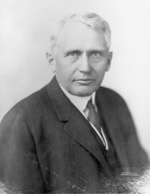 Frank Kellogg (pictured) won only 48.6 percent when he won his first term in 1916, Rod Grams won 49.1 percent in 1994, Norm Coleman won 49.5 percent in 2002, and Wendell Anderson was never elected to the Senate in the first instance.
Only Magnus Johnson eclipsed the 50 percent mark when he won his first term in 1923's special election (57.5 percent).
By contrast, six of the eight non-appointee first term Senators from Minnesota who won a second term in the Senate received more than 50 percent of the vote in claiming their first term: Dave Durenberger (61.5 percent), Hubert Humphrey (59.8 percent), Edward Thye (58.9 percent), Rudy Boschwitz (56.6 percent), Eugene McCarthy (52.9 percent), and Paul Wellstone (50.4 percent).
Only Henrik Shipstead (47.1 percent) and Thomas Schall (46.5 percent) won with pluralities.
The field of Republican (and Independence Party) challengers for Klobuchar's seat in 2012 is wide open at this time.
Follow Smart Politics on Twitter.