Race, Not Party, Defines Charlie Rangel Censure Vote
Just 25 percent of racial minorities in the U.S. House (and only 1 black) voted for Rangel censure, compared to 92 percent of whites and 87 percent of white Democrats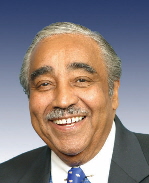 The U.S House vote on Thursday afternoon to censure longtime Harlem U.S. Representative Charlie Rangel (NY-15) for 11 ethics violations was noteworthy not simply because it is an infrequently used hammer in the lower chamber.
Although all but two of the 79 members who voted against censure were members of the Democratic Party, the 333-79 vote revealed much less about partisan politics and much more about race.
A Smart Politics analysis of the H.R. 1737 roll call vote finds that just 25 percent of racial minorities voted for Rangel's censure (18 of 71 voting representatives) compared to 92 percent of whites (315 of 341).
Black members of the House voted nearly unanimously against the resolution with outgoing member Artur Davis (AL-07) the lone vote in favor of censuring the congressman from New York.
In total, 36 of 37 voting African-American members of the House voted against censure, or 97 percent – including Rangel, who also cast a 'nay' vote in his defense.
Two black representatives did not vote: Alcee Hastings (FL-23) and outgoing member Kendrick Meek (FL-17).
A majority of Hispanic and Latino American representatives were also opposed to censuring Rangel, with just 11 of 25 voting 'yea,' or 44 percent.
All three such Republicans voted for censure (Ileana Ros-Lehtinen, FL-18; Lincoln Diaz-Balart, FL-21; Mario Diaz-Balart, FL-25), along with eight Democrats (Dennis Cardoza, CA-18; Jim Costa, CA-20; Henry Cuellar, TX-28; Ben Ray Luján, NM-03; Ciro Rodriguez, TX-23; Linda Sánchez, CA-39; Loretta Sanchez, CA-47; and Albio Sires, NJ-13).
The eight representatives of Asian or Pacific Islander descent were also split, with a majority preferring censure (5 of 8).
Voting against censure were Democrats Mike Honda (CA-15), Mazie Hirono (HI-02), and Judy Chu (CA-32). Voting for censure were Democrats David Wu (OR-01), Doris Matsui (CA-05) and Republicans Steve Austria (OH-07), Joseph Cao (LA-02), and Charles Djou (HI-01).
The House's only member of Native American descent, Republican Tom Cole (OK-04), also voted for censure.
White members of the U.S. House, however, voted in stark contrast to those representatives of color.
Overall, 92 percent of white representatives voted to censure the Harlem congressman – 315 of 341 voting members – with little difference between Democrats and Republicans.
All but two white Republicans (Peter King, NY-03, and Don Young, AK-AL) voted to censure Rangel, or 156 of 158 voting members (99 percent).
Meanwhile, a nearly equal percentage of white Democrats, 87 percent (159 of 183 representatives), also voted for the censure resolution.
Nearly 40 percent of the 24 white Democrats who did vote against censure were from Rangel's Empire State: Gary Ackerman (NY-05), Joseph Crowley (NY-07), Jerrold Nadler (NY-08), Anthony Weiner (NY-09), Carolyn Maloney (NY-14), Eliot Engel (NY-17), Nita Lowey (NY-18), Maurice Hinchey (NY-22), and Louise Slaughter (NY-28).
Charlie Rangel U.S. House Censure Vote by Race
Race

Yes

No

Total

% Yes

% No

Black

1

36

37

2.7

97.3

Hispanic/Latino

11

14

25

44.0

56.0

Asian/Pacific

5

3

8

62.5

37.5

Native American

1

0

1

100.0

0.0

All racial minorities

18

53

71

25.4

74.6

White

315

26

341

92.4

7.6

White Democrats

159

24

183

86.9

13.1

White Republicans

156

2

158

98.7

1.3
Note: The 'nay' votes by Charlie Rangel (NY-15) and Robert Scott (VA-03) were tallied under 'black' (Rangel is also of Hispanic descent and Scott is also of Filipino descent). Table compiled by Smart Politics.
Follow Smart Politics on Twitter.