Minnesota Republicans Notch 3rd Biggest Increase in State Senate Seats Nationwide
Only New Hampshire and South Dakota gained a larger percentage of Senate seats in 2010 than Minnesota GOPers (+23.9 percent)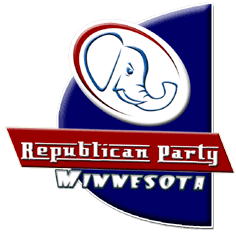 The eye-opening takeover of the Minnesota Senate by Republicans last month not only marked the first time the GOP has controlled the upper chamber since partisan elections were reintroduced in 1974, but also one of the biggest gains in the nation this cycle.
A Smart Politics study of 2010 state legislative election returns finds that Republican gains in the Minnesota Senate were the third largest proportionally nationwide, with the GOP increasing their seat tally by 23.9 percent.
The only two states that saw a greater surge for Republicans in upper legislative chambers across the country were New Hampshire (+37.5 percent) and South Dakota (+25.7 percent).
A total of 42 states had some or all of their senate seats on the ballot in November, with 7 states holding none or only special elections. (Nebraska has a unicameral legislative body).
Gopher State Republicans by far picked up the most raw number of seats in 2010 at 16, with North Carolina at 11, and New Hampshire, North Dakota, and South Dakota at nine each.
Minnesota has the most Senate seats of any state in the nation at 67, followed by New York (62), Illinois (59), and Georgia (56).
When adjusting for the size of each state's legislative body, the 16-seat gain by the Minnesota GOP ranks third in the nation.
Overall, the Upper Midwest saw some of the largest Republican gains in its state senate chambers across the country, with South Dakota at #2, Minnesota at #3, North Dakota at #7, Wisconsin at #10, and Iowa at #11.
· South Dakota Republicans saw their margin increase by nine seats (+25.7 percent) from 21-14 to 30-5 – their best mark since the 1960s.
· North Dakota Republicans also gained nine seats (+19.1 percent), augmenting their 26-21 margin to 35-12.
· Wisconsin Republicans took over the Senate in the Badger State, after relinquishing control for two cycles. The Wisconsin GOP recorded a five seat gain (+12.1 percent) to transform their 18-15 seat deficit to a 19-14 advantage. The five seat gain in Wisconsin was particularly impressive as only 17 of the body's 33 seats were on the ballot – with 10 of these controlled by Democrats before Election Day.
· Iowa Republicans fell just short of making a clean sweep for the GOP in all 10 Upper Midwestern legislative chambers. A six-seat gain (+12.0 percent) cut the Party's 32-18 deficit to 26-24.
Republicans enjoyed net gains in upper legislative chambers in 33 states in November, while losing ground to Democrats in just six: two seats each in Maryland and West Virginia and one seat each in Hawaii, Massachusetts, Mississippi, and New Jersey.
Follow Smart Politics on Twitter.