Michael Steele Seeks to Buck RNC History with Appeal for Second Term
Over 75 percent of RNC Chairmen throughout history have served less than two full terms; 60 percent have served two years or less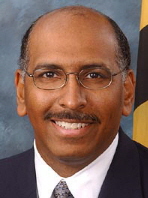 Michael Steele ended weeks of will-he-or-won't-he speculation on Monday, with an announcement that he would seek another term as Chairman of the Republican National Committee (RNC).
The RNC will hold elections for its leadership officers in January, and Steele's announcement comes as a surprise to many Republicans (and a disappointment to some) who felt the GOP's sweeping gains in November came in spite of the Chairman's party leadership skills.
Steele, the former Lieutenant Governor of Maryland, is seeking a second term for what would be his third and fourth years as chairman.
And how unusual would it be for Steele to extend his stay as leader of the RNC through January 2013?
A Smart Politics review of past Republican National Committee chairmen finds that 76 percent (48 of 63) served less than four years, with only 15 former chairmen serving two or more full terms (24 percent).
If reelected, Steele will serve as chairman for at least four years, having been elected to the post in 2009. (Barring retirement or removal from office, which can occur under RNC rules with a vote of two-thirds of all RNC members).
Steele is seeking to buck a recent GOP trend that has seen a steady stream of new blood head the RNC over the past decade.
None of Steele's five predecessors served more than two years: Jim Gilmore (2001-2002), Marc Racicot (2002-2003), Ed Gillespie (2003-2005), Ken Mehlman (2005-2007), and Mike Duncan (2007-2009).
Overall, 60 percent of former Committee chairmen had tenures of two years or less (38 of 63), including nine of the last twelve dating back to 1981.
Thirty percent of RNC chairmen throughout history served less than two years (19 of 63).
Several Republicans have already lined up to become the Committee's 65th chairman, and, with Steele's spotty popularity among GOP leaders, it is unlikely many will drop out of the running despite his appeal for reelection on Monday.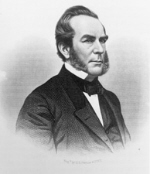 Even if he wins a second term, Steele would have a long way to go to surpass the longest serving chairmen in RNC history.
Edwin Morgan, who would later become a U.S. Senator from New York, was the Party's first chairman, holding the office for eight years from 1856-1864.
Ohio Senator Marcus Hanna also held the post for eight years (1896-1904) while the third longest RNC chairman tenure was clocked in by Frank Fahrenkopf, Jr, who served for six years from 1983-1989.
The average length of service for the 63 RNC chairmen who preceded Steele was just shy of two years and five months.
Length of Service of Republican National Committee Chairmen, 1856-2009
Years

#

Percent

<1

4

6.3

1

15

23.8

2

19

30.2

3

10

15.9

4

12

19.0

6

1

1.6

8

2

3.2

Total

63

100.0
Note: Does not include the tenure of current Chairman Michael Steele. Table compiled by Smart Politics.
Follow Smart Politics on Twitter.