Michael Steele Era on Par with Historical Tenure of RNC Chairmen
Over 75 percent of RNC Chairmen throughout history have served less than two full terms; 61 percent have served two years or less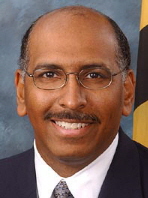 The election of Reince Priebus as the next Republican National Committee (RNC) Friday afternoon ended Michael Steele's quest to continue at his post for another two years.
Steele's defeat ends his Chairmanship at two years, which is on par with the average tenure for RNC Chairmen throughout history.
A Smart Politics review of past Republican National Committee chairmen finds that 77 percent (49 of 64) served less than four years, with only 15 former chairmen serving two or more full terms (23 percent).
Steele continues a recent trend for RNC chairmen, as none of his five predecessors served more than two years: Jim Gilmore (2001-2002), Marc Racicot (2002-2003), Ed Gillespie (2003-2005), Ken Mehlman (2005-2007), and Mike Duncan (2007-2009).
With Steele's defeat, 61 percent of former RNC chairmen have notched tenures of two years or less (39 of 64), including 10 of the last 13 dating back to 1981.
Thirty percent of chairmen throughout history served less than two years (19 of 64).
Overall, the average tenure of RNC chairs has been approximately two years and five months.
The longest serving chairmen in Committee history were future U.S. Senator from New York Edwin Morgan (the Party's first chairman), who held the office for eight years from 1856-1864 and Ohio Senator Marcus Hanna, who chaired the committee from 1896 to 1904.
Length of Service of Republican National Committee Chairmen, 1856-2011
Years

#

Percent

<1

4

6.3

1

15

23.4

2

20

31.3

3

10

15.6

4

12

18.8

6

1

1.6

8

2

3.1

Total

64

100.0
Table compiled by Smart Politics.
Follow Smart Politics on Twitter.