More Likely 2012 US Senate Scenario: Connecticut to the GOP or North Dakota to the Dems?
Connecticut has never voted for a Republican U.S. Senator and a Democratic presidential nominee in the same cycle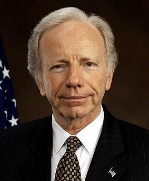 Retirement announcements made by two long-serving Democrats in the U.S. Senate this week have added some early intrigue to what is already shaping up to be a fascinating 2012 election cycle.
North Dakota's Kent Conrad and (Independent Democrat) Joe Lieberman of Connecticut will both retire at the end of their terms in 2012.
The conventional wisdom, of course, is that North Dakota – a conservative state without a deep Democratic bench – will flip back to the Republicans while Connecticut – a liberal state – will go to the Democrats.
That wisdom held true in 2010, when both states held open seat races – won easily by the GOP in North Dakota (John Hoeven) and by the Democrats in Connecticut (Richard Blumenthal).
So, will there be any electoral drama in these two open seat races in 2012?
Putting convention aside, Smart Politics takes a historical look at Senatorial elections in the two states to analyze which unlikely scenario is more likely: North Dakota remaining in the Democratic column or Connecticut flipping to the GOP?
As luck would have it, both North Dakota and Connecticut are on the same election cycles, with each having Class I and Class III Senate seats.
Both states have also held exactly 33 general elections and four special elections since popular vote contests were introduced nearly 100 years ago.
Taking the long view, Republican candidates in North Dakota and Democrats in Connecticut have historically been almost mirror images of each other in U.S. Senate races.
Political Party Success
North Dakota has voted Republican in 21 of 37 elections since 1914, voted Democratic in 15 races, and elected a third party candidate in one contest (Gerald Nye in 1926).
Connecticut has voted Democratic in 20 of 37 elections, Republican in 16, and for a third party in one cycle (Lieberman in 2006).
Vote Received
Republicans in North Dakota have averaged 50.9 percent of the vote across these 37 popular vote elections since 1914. Democrats have averaged 41.5 percent and third parties 7.6 percent.
Democrats in Connecticut, meanwhile, have averaged a very similar 50.1 percent of the vote during their 37 Senate races. Republicans have averaged 45.7 percent and third parties 4.2 percent.
Recent Electoral History
A look at the shorter-term electoral trends finds Republicans winning only won one contest in both North Dakota and Connecticut since 1982.
The GOP has lost nine consecutive U.S. Senate elections in Connecticut since 1986, by an average margin of 26.3 points.
Prior to former Governor John Hoeven's rout in the 2010 North Dakota Senate race, Republicans had lost ten consecutive general and special election Senate races since 1982, by an average of 24.2 points.
Open Seat Races
With the retirements of Conrad and Lieberman, the two states will host open seat races in 2012.
Republicans have had identical success in the two states in open seat Senate races over the past century, with the GOP winning five Senate races and Democrats landing three in each state.
In North Dakota, Republicans won open seat Senate races in 1920, 1922, 1940, 1980, and 2010. Democrats won open seat races in 1960, 1992, and 1992 (special election).
In Connecticut, Republicans also won five open seat races: in 1924, 1928, 1946, 1952, and 1970. Democrats won in 1962, 1980, and 2010.
Split-Ticket Voting?
Of course, 2012 will also be a presidential election year, and that may be as big a determining factor as any – aside from the eventual Senate nominees – in determining the outcome of the Senate race.
When Connecticut's U.S. Senate races have taken place during presidential election years, the partisan vote for Senator has aligned with the partisan vote for president in 13 of 16 cycles.
Only in 1932, 1980, and 1988 have Connecticut voters split their ballots – and in every case for a Democratic Senator and a Republican presidential nominee.
In short, Connecticut has never elected a Republican Senator while voting for a Democratic presidential nominee in the same cycle.
North Dakotans, however, have split their presidential-Senate ticket in eight out of these 16 elections.
In 1944, 1976, 1988, 1992, 2000, and 2004 North Dakota voted for the Republican presidential nominee and a Democratic Senator.
In 1916 and 1932 North Dakota voted for the Democratic presidential nominee and a Republican Senator.
Given this electoral history, and the fact that Connecticut is almost assuredly voting for and North Dakota voting against Barack Obama in 2012, if there is going to be an upset in one of the state's U.S. Senate races, Smart Politics suspects it will be a conservative Democrat getting elected in North Dakota.
Follow Smart Politics on Twitter.