Obama's Episodic Stories in SOTU All Rooted in 2012 Battleground States
Each of the personal anecdotes relayed by Obama in his 2011 Address featured individuals living in battleground states won by the President in 2008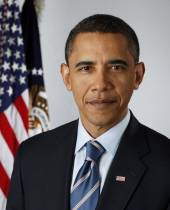 Although State of the Union Addresses are often criticized for being high on generalities and soaring oratory but low on specifics, it has become customary for presidents to highlight stories from 'regular Americans' in order to place emphasis on their policy proposals and also to help their larger thematic points resonate with the viewing public.
Presidents therefore frequently single out the names of specific Americans – often special guests at the annual Address – and mention where they are from, and how their stories have a larger meaning, contributing not only to the greatness of America, but also to the theme of that particular section of the president's speech.
In Tuesday night's State of the Union Address, each of these stories relayed by Barack Obama had one thing in common.
A Smart Politics review of the State of the Union Address finds that every personal, episodic story told by the President about regular Americans was rooted in a battleground state carried by Obama in 2008: Michigan, Colorado, North Carolina, Oregon, and Pennsylvania.
To be sure, if the President is going to be reelected in 2012, he will need to carry almost all of these states.
The first detailed, episodic story highlighted in Obama's Address was implemented to illustrate his discussion of the importance of technology and innovation.
On the heels of the President's "This is our generation's Sputnik moment" line, Obama described the entrepreneurial spirit of a small business in Michigan that was an innovator in solar energy:
Robert and Gary Allen are brothers who run a small Michigan roofing company. After September 11th, they volunteered their best roofers to help repair the Pentagon. But half of their factory went unused, and the recession hit them hard. Today, with the help of a government loan, that empty space is being used to manufacture solar shingles that are being sold all across the country. In Robert's words, "We reinvented ourselves."
Obama won Michigan by 16.4 points in 2008, but the Wolverine State was one of many in the Midwest in 2010 that saw a GOP landslide.
A few minutes later, the President segued into the importance of education – preparing our nation's children to be equipped to lead America in this technological revolution.
Highlighting a success story from the Race to the Top program, Obama headed westward to the battleground state of Colorado (won by 9.0 points in 2008):
Take a school like Bruce Randolph in Denver. Three years ago, it was rated one of the worst schools in Colorado; located on turf between two rival gangs. But last May, 97% of the seniors received their diploma. Most will be the first in their family to go to college. And after the first year of the school's transformation, the principal who made it possible wiped away tears when a student said "Thank you, Mrs. Waters, for showing… that we are smart and we can make it."
Obama then headed back east – to North Carolina (which Obama carried by just 0.3 points) – in an illustration of the importance of community colleges to train Americans for in the fast-changing economy of the 21st Century:
Last month, I saw the promise of these schools at Forsyth Tech in North Carolina. Many of the students there used to work in the surrounding factories that have since left town. One mother of two, a woman named Kathy Proctor, had worked in the furniture industry since she was 18 years old. And she told me she's earning her degree in biotechnology now, at 55 years old, not just because the furniture jobs are gone, but because she wants to inspire her children to pursue their dreams too. As Kathy said, "I hope it tells them to never give up."
Although Barack Obama spent less than half as much time on health care as compared to his 2010 State of the Union speech, he did work in one episodic story about the importance of his reforms – this time out West in Oregon (won by 16.4 points):
I'm not willing to tell James Howard, a brain cancer patient from Texas, that his treatment might not be covered. I'm not willing to tell Jim Houser, a small business owner from Oregon, that he has to go back to paying $5,000 more to cover his employees. As we speak, this law is making prescription drugs cheaper for seniors and giving uninsured students a chance to stay on their parents' coverage. So instead of re-fighting the battles of the last two years, let's fix what needs fixing and move forward.
Finally, as an illustration of the American Dream, Obama closed his speech by highlighting the success story of the small business owner in Pennsylvania (won by 10.3 points) whose technological advances helped save the trapped Chilean miners last fall:
That dream – that American Dream – is what drove the Allen Brothers to reinvent their roofing company for a new era. It's what drove those students at Forsyth Tech to learn a new skill and work towards the future. And that dream is the story of a small business owner named Brandon Fisher.
Brandon started a company in Berlin, Pennsylvania that specializes in a new kind of drilling technology. One day last summer, he saw the news that halfway across the world, 33 men were trapped in a Chilean mine, and no one knew how to save them.
But Brandon thought his company could help. And so he designed a rescue that would come to be known as Plan B. His employees worked around the clock to manufacture the necessary drilling equipment. And Brandon left for Chile.
In light of these strategically selected stories, while the President generally received accolades for the bi-partisan tone he struck in his Address, let there be no doubt the State of the Union was, and will always be, a very political speech.
Follow Smart Politics on Twitter.