Ensign Departure Still Leaves Big Opportunity for Democrats in 2012 Nevada Senate Race
Partisan control has flipped in every open general election Nevada U.S. Senate race since first popular vote contest in 1908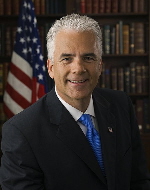 If you're wondering why Nevada Republican Senator John Ensign waited more than one and a half years to announce he was retiring from his seat, when his extramarital affair with an aide's wife had been exposed in June of 2009, it is because Senators do not normally leave their privileged office quietly.
Ensign was aggressively campaigning for reelection up until a few days ago when he announced on Monday that he would retire at the end of his term so that his family would not have to endure what would be a brutal reelection bid.
To be sure, Ensign's retirement is unusual, as most Senators leave Washington D.C. in defeat or in a coffin.
Of the 19 U.S. Senators from the Silver State who have held office since popular vote elections were introduced there in 1908, just four have retired from office, and only one on their own terms or untouched by scandal.
· Five Senators from Nevada died in office: Republican George Nixon and Democrats Francis Newlands, Key Pittman, James Scrugham, and Pat McCarran.
· Seven Senators were defeated at the ballot box in a reelection bid: Republicans William Massey (1912), Tasker Oddie (1932), Ernest Brown (1954), George Malone (1958), and J. Chic Hecht (1988), and Democrats Charles Henderson (1920) and Howard Cannon (1982).
· Two Senators were unsuccessful candidates for their party's renomination: Democrats Berkeley Bunker (1942) and Edward Carville (1946).
That leaves just three Nevadans who retired from their U.S. Senate seat in addition to Ensign and the state's senior Senator Harry Reid who won reelection in 2010.
Democrat Alan Bible retired from office after his fourth term in 1974, but only due to ill health at the time (he would live another 14 years).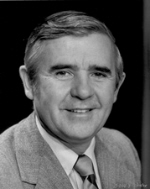 Republican Paul Laxalt retired after just two terms in 1986 after the release of a series of newspaper reports (and subsequent libel court battles) regarding his potential ties to organized crime and the accusation that money was being illegally skimmed from a casino owned by the Senator.
The difference between Laxalt and Ensign, however, is that despite rumors of criminal wrongdoing with Laxalt, he announced his retirement with an approval rating of 70 percent, according to Ronald Reagan's presidential pollster Dick Wirthlin.
While Ensign has only been found guilty of moral misconduct, there was no guarantee Ensign would have survived a Republican challenge in next year's GOP primary.
That leaves only one Senator from Nevada that left office quietly and on his own terms over the last 100+ years: Democrat Richard Bryan, who retired after two terms in 2000.
Bryan surprised many of his colleagues when he announced his retirement on February 18, 1999 – or about two and a half weeks before Ensign at that point in the 2000 election cycle.
Laxalt announced he would not seek another term on August 19, 1985 – some six months after Ensign at that stage of the 1986 cycle.
And how will Ensign's retirement affect Democratic chances to pick up the seat?
While Democrats may have preferred to have the chance to knock off an embattled incumbent rather than a potentially stronger GOP nominee (such as U.S. Representative Dean Heller), Nevada electoral history gives Democrats excellent odds.
U.S. Senate incumbents in Nevada have won 27 out of 34 contests since popular vote elections were introduced in the Silver State in 1908, or a 79.4 percent success rate.
However, in open seat races, the political party has held its seat just 20 percent of the time, or 1 out of 5 contests, and never in a general election:
· When Democrat Dick Bryan retired in 2000, Ensign and the GOP picked up the seat by cruising to a 15-point victory over Edward Bernstein.
· When Laxalt retired in 1986, Democrats picked up his seat with Harry Reid's 5.5-point win over Jim Santini.
· After Democrat Alan Bible's retirement in 1974, Paul Laxalt picked up the seat for the GOP with a 624-vote victory over Harry Reid.
· After appointed Democratic Senator Edward Carville failed to receive his party's nomination in 1946, Republican George Malone picked up the seat for the GOP with a 10-point win over former Senator Berkeley Bunker.
The only time a seat was held without an incumbent on the ballot was in 1942 when appointed Senator Bunker failed to receive the Democratic nomination. James Scrugham, however, held the seat for the Democrats in a special election with a 17-point win over Republican Cecil Creel.
Update: Dennis Myers, News Editor of the Reno News & Review, points out that the first three U.S. Senate Nevada elections in 1908, 1910, and 1912 (special) were voter preference ballots. The Nevada legislature eventually chose the Senators selected by the public in each of these elections. Myers also contends that despite media reports that Senator Bible was retiring due to ill health, Bible did not cite ill health in his retirement speech. As noted above, Bible did live for more than a decade after his retirement.
Follow Smart Politics on Twitter.