Tim Kaine in 2012 and Virginia's (Sometimes Sticky) New Revolving Door from Richmond to D.C.
Kaine campaign would mean seven of the last 10 Virginia ex-governors launched U.S. Senate bids, including each of the last five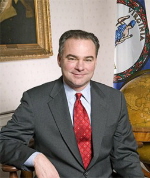 Former Virginia Governor and current DNC Chair Tim Kaine's false-start non-announcement to a class at the University of Richmond's Jepson School on Monday that he is likely to be – but not quite officially – a candidate for the state's 2012 U.S. Senate race, highlights a recent trend that has been brewing over the last few decades in Virginia politics.
A Kaine candidacy for retiring one-term Democratic Senator Jim Webb's open seat would mean that each of the last five ex-governors of the Old Dominion State launched U.S. Senate bids, as well as seven of the last 10, beginning with Kaine's father-in-law Linwood Holton, who governed from 1970-1974.
One might suspect part of the reason for the large proportion of ex-governors to make the Richmond-to-D.C. jump is due to the fact that Virginia governors cannot serve in back-to-back terms.
Still, the quest for ex-governors from the Commonwealth to pass through the (sometimes sticky) revolving door 100 miles up Interstate 95 to the U.S. Senate in Washington, D.C. is a relatively new trend in Virginia politics.
Prior to Governor Holton, only two of Virginia's previous 15 ex-governors dating back to William Mann in 1914 made a run for the U.S. Senate after the expiration of their four-year terms.
In total, since popular vote elections were first held in Virginia in 1916, nine ex-governors have launched a Senate campaign, with six of these taking place since 1978.
The first ex-governor to make the leap over the last century was Democrat Claude Swanson, who governed Virginia from 1906 to 1910.
Swanson was first appointed to Senator John Daniel's seat (who died in office) in August 1910, was elected to the seat that November, then reelected by popular vote in 1916, 1922, and 1928.
Swanson, however, was challenged from his own party in 1922 by another ex-governor, Democrat Westmoreland Davis.
Davis governed Virginia from 1918 to 1922, and lost the Democratic primary to Swanson seven months later in August.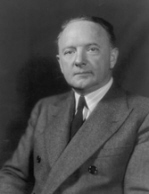 After Swanson resigned from the Senate in 1933, former Governor Harry Byrd, Sr. won a special election to fill the seat.
Byrd recorded decisive reelection victories in 1934, 1940, 1946, 1952, 1958, and 1964.
None of the subsequent 10 men who governed Virginia after Byrd went on to launch U.S. Senate campaigns, from John Pollard (1930-1934) through Mills Godwin (1966-1970), although four were U.S. Representatives before their stint in the governor's office (George Peery, Colgate Darden, Thomas Stanley, and James Almond) and one was elected to the U.S. House thereafter (William Tuck, who served eight terms).
But the last 30+ years tell a different tale.
Six of the next eight men to govern the Commonwealth (excluding Godwin who returned for another term as governor in 1974), launched U.S. Senate bids:
· Linwood Holton (1970-1974) lost in the 1978 U.S. Senate Republican primary to eventual winner John Warner.
· Democrat Chuck Robb (1982-1986) won an open seat race in 1988, was reelected in 1994, and lost a bid for a third term in 2000.
· Democrat Douglas Wilder (1990-1994) challenged Robb in 1994 as an independent, but exited the Senate race in September when he was polling at a distant third.
· Republican George Allen (1994-1998) unseated Robb in 2000, though lost his 2006 reelection campaign to current Senator Jim Webb.
· GOPer Jim Gilmore (1998-2002) and Democrat Mark Warner (2002-2006) squared off in 2008 to fill John Warner's open seat in a race that Warner won with 65 percent of the vote.
A Kaine for Senate campaign in 2012 would make it seven of nine, against a GOP opponent that, appropriately so, might very well be another ex-governor (former Senator George Allen, who announced his candidacy last month).
Prior to the last few decades, past ex-governors of Virginia found other positions to keep them occupied after leaving office, often out of the political sphere. For example:
· Elbert Trinkle (1922-1926) was the President of the Virginia Board of Education
· George Peery (1934-1938) was a member of the board of trustees of Washington and Lee University and of Hollins College
· Colgate Darden (1942-1946) was the president of the University of Virginia at Charlottesville
· Thomas Stanley (1954-1958) became a trustee of Randolph-Macon College, vice president and director of First National Bank in Bassett, and chairman of the Commission on State and Local Revenues and Expenditures
· James Almond (1958-1962) was appointed judge for the United States Court of Customs and Patents Appeals
But it appears Kaine is headed down a recently well-trodden path.
If and when Kaine launches his 2012 campaign, he will become the fifth consecutive ex-governor of the Commonwealth to seek a U.S. Senate seat, following Wilder, Allen, Gilmore, and Warner.
Kaine, who married Linwood Holton's daughter Anne, once said of the ex-governor, "He's my political role model. I don't have any others." – an interesting testimonial in light of Holton's 1978 failed Senate run.
Virginia U.S. Senate Campaigns by Ex-Governors in the Popular Vote Era
Governor

Party

Senate bid

Outcome

Tim Kaine

Democrat

2012 ?

??

Mark Warner

Democrat

2008

Won

Jim Gilmore

Republican

2008

Lost

George Allen

Republican

2000

Won

Douglas Wilder

Democrat

1994

Quit

Chuck Robb

Democrat

1988

Won

Linwood Holton

Republican

1978

Lost primary

Harry Byrd, Sr.

Democrat

1933

Won

Westmoreland Davis

Democrat

1922

Lost primary

Claude Swanson

Democrat

1910*

Won
* Swanson was later elected by popular vote in 1916. Table compiled by Smart Politics.
Follow Smart Politics on Twitter.