Dean Heller Takes Narrow Historical Pathway to Nevada U.S. Senate Seat
Only four of Nevada's 24 Senators had a prior tenure in U.S. House; 75 percent of Senate bids by Nevada U.S. Representatives have failed since WWII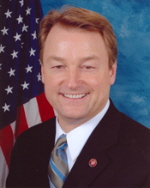 Nevada Republican U.S. Representative Dean Heller made it official on Tuesday morning to run in 2012 for the open seat of retiring two-term GOP Senator John Ensign.
At first blush, Heller seems poised to have the inside track, with the requisite experience for a victorious campaign in the Silver State – with both Ensign and Democrat Harry Reid also winning their Senate seats with multiple terms in the U.S. House under their belts.
However, that kind of political biography – rewarding U.S. Representatives with a promotion to the Senate – has proven to be more the exception than the rule in Nevada electoral history.
A Smart Politics study finds that of the 24 individuals who have served as U.S. Senator from Nevada in the history of the state, only four were previously elected to the U.S. House of Representatives.
The first U.S. House member to win a Senate seat from Nevada was Democrat Francis Newlands – a five term Representative from 1893-1903 – who was elected to the Senate in 1902 and then reelected in 1908 and 1914 by popular vote.
It would be 40 years before another U.S. House member from the Silver State won a Senate seat.
In 1942, former Governor (1923-1927) and five-term Representative James Scrugham (1933-1942) won his Senate race, though he would die in office in mid-1945 during his first term.
It would then be another 40+ years before a veteran of the U.S. House from Nevada found his way to the nation's upper legislative chamber.
In fact, since World War II, 75 percent of Senate campaigns by U.S. House members have fallen short of the mark, with six of eight Representatives failing to capture the seat.
Moreover, one of the two victories during this period was between two candidates who had both served in the House (1986, see below) – so one of them had to win.
Losing Senate candidacies during the post-World War II era include:
· In 1946, one-term House Democrat Berkeley Bunker lost by 10.4 points to Republican George Malone. (Bunker had been appointed to the Senate earlier in the decade and served there for just over two years before winning his House seat).
· In 1956, two-term Republican Clifton Young lost his bid for a Senate seat against Democratic incumbent Alan Bible. Bible won the contest by 5.2 points.
· In 1976, former one-term Republican Representative David Towell was routed by 31.6 points in his attempt to unseat three-term Democratic Senator Howard Cannon.
· In 1982, Cannon was defeated by Republican Chic Hecht, but not until after Cannon had ousted four-term Representative James Santini in the Democratic primary.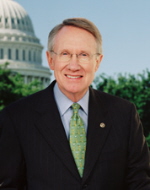 · In 1986, Santini returned to fight once again – this time as a Republican – in his attempt to capture retiring GOPer Paul Laxalt's seat. Santini won the Republican nomination, but was defeated by Harry Reid by 5.5 points.
The victory by Reid, a two-term Representative at the time, marked just the third time Nevadans elected a Senator with U.S. House experience in 122 years since statehood.
· In 1998, two-term Representative John Ensign lost in the first of his two campaigns to become Senator, with Reid narrowly winning a third term by just 428 votes.
Ensign – like Santini – would return to the political battlefield in the very next Senate contest in 2000. This time Ensign was victorious – winning the seat left open by retiring Democrat Richard Bryan by 15.4 points over Edward Bernstein.
Other failed candidacies by Nevada U.S. Representatives prior to World War II are:
· Four-term Representative Edwin Roberts, who lost to appointed incumbent Democratic Senator Charles Henderson in 1918 by 16.2 points.
· Former one-term Republican Representative Henry Worthington, who lost a Senate seat by two votes in 1868 – although that was in Nebraska after taking up residence in the Cornhusker State.
So can an inside-the-beltway candidate win Nevada's Senate seat in 2012?
With Nevada's economy and employment situation continuing to struggle, it is not surprising that Heller is running out of the gate as an independent outsider – someone who can feel the pain of Nevadans, but, despite three-terms on Capitol Hill, is not claiming responsibility for the state's current plight.
In his candidacy statement on Tuesday, Heller wrote:
"It is difficult to see so many people hurting in my home state….We see the tough choices our friends, neighbors, and family members are making every day and I see how poor decisions in Washington are impacting their lives…
…I have long been an opponent of reckless government spending and continue to support a balanced budget. In 2008, I stood up to former President Bush, then Senator Obama, and Washington special interests and said no to the Wall Street bailout. In fact, I was the only member of the Nevada delegation to vote against the Wall Street bailout, not once but twice. My view then, just as it is now, is that debt fueled bailouts only hurts long-term economic growth and places taxpayers on the hook for the excesses of Wall Street. Now I want to take this fight to the United States Senate."
But although Heller appears to be an early favorite, having won statewide office before as Secretary of State for 12 years, it is still premature to know how the increasingly conservative credentials he has flashed in the state's 2nd CD will play across the largely purple state.
In 2010, National Journal rated Heller as the 69th most conservative member of the House – up from 99th in 2009, and 109th and 126th during his first two years in office (2007 and 2008 respectively).
On top of that, Smart Politics recently reported that Nevadans have flipped partisan control of every open general election Senate seat since its first popular vote contest in 1908.
However, until Democrats demonstrate the ability to rally behind a candidate the way Republicans are likely to do for Heller in the coming months (Governor Brian Sandoval has already endorsed his candidacy), it appears Heller will remain a favorite and try to make it five for 25.
Fate of Nevada U.S. Senate Campaigns by Candidates with U.S. House Experience Since Statehood
Year

Candidate

Party

Outcome

2012

Dean Heller

GOP

??

2000

John Ensign

GOP

Won

1998

John Ensign

GOP

Lost general

1986

James Santini

GOP

Lost general

1986

Harry Reid

Democrat

Won

1982

James Santini

Democrat

Lost nomination

1976

David Towell

GOP

Lost general

1956

Clifton Young

GOP

Lost general

1946

Berkeley Bunker

Democrat

Lost general

1942

James Scrugham

Democrat

Won

1918

Edwin Roberts

GOP

Lost general

1902

Francis Newlands

Democrat

Won
Table compiled by Smart Politics.
Follow Smart Politics on Twitter.