Michele Bachmann on Pace to Raise $52 Million for the 2012 Cycle
Bachmann's first quarter receipts have historically averaged just 3.3 percent of her eventual election cycle haul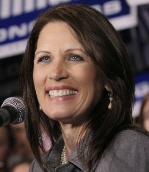 After netting over $13.3 million during her successful reelection cycle battle defense against well-funded DFLer Tarryl Clark in 2010, Minnesota Republican Representative Michele Bachmann's $1.7 million haul for the first quarter of the 2012 election cycle might almost go unnoticed.
But Minnesota's most famous politician's fundraising in Q1 2011 set several personal bests en route to what is likely going to be another national record-setting cycle – provided she ultimately runs for her House seat as Smart Politics suspects.
To begin with, Bachmann's $1.7 million first quarter tally marks a 447 percent increase from the same reporting period in 2009, in which she raised $313,685.
The Congresswoman's Q1 fundraising had increased 340 percent from the same period from 2005 ($59,032) to 2007 ($259,748), but only 21 percent from 2007 to 2009.
And then there is this jaw-dropping (though seemingly unsustainable) fundraising projection:
During her 2006, 2008, and 2010 campaigns, Bachmann's 1st Quarter funds represented as low as 2 percent and no more than 8 percent of her final fundraising tally for the eight-quarters that cycle:
· For example, Bachmann's Q1 2005 funds ($59,032) amounted to 2.5 percent of her entire 2006 cycle receipts ($2.3 million).
· The congresswoman's Q1 2007 funds ($259,748) tallied 7.6 percent of her eventual 2008 cycle haul ($3.4 million).
· And Bachmann's Q1 2009 receipts ($313,685) amounted to a mere 2.3 percent of her final $13.3 million 2010 cycle warchest.
Overall, Representative Bachmann's first quarter funds have historically averaged just 3.3 percent of her eventual eight-quarter receipts for the entire cycle.
If that pattern holds this cycle, Bachmann's $1.7 million raised in Q1 2011 puts her on pace to raise $52 million for the 2012 cycle – or nearly four times the amount of money she raised during her record-setting 2010 campaign.
Of course, the catch here is that Bachmann is no doubt getting some sort of boost in funds due to her flirtations with a run for the presidency.
If Bachmann ends up not running for the presidency, no doubt the pace at which she is bringing money into her campaign will slow down (although untold millions will still pour into her coffers).
Michele Bachmann 1st Quarter Fundraising as a Percentage of Total Election Cycle Receipts
Cycle

1st Quarter

Final

% 1st

2006

$59,032

$2,378,708

2.5

2008

$259,748

$3,430,502

7.6

2010

$313,685

$13,385,080

2.3

Average

$210,822

$6,398,096

3.3

2012

$1,717,766

$52,053,515*

(3.3)
* Projection. Table compiled by Smart Politics from FEC data.
In the end, with her 6th CD district lines likely to be less flattering for the Congresswoman than they are currently drawn, this early eyebrow-raising spike in fundraising will prove quite useful if and when she runs for reelection.
Not in the hands of lobbyists
Bachmann also set a personal quarterly best since being elected to Congress with 99.9 percent of her Q1 2011 funds coming from individuals, and just 0.1 percent from Political Action Committees (PACs).
By comparison, 34.1 percent of Rep. Bachmann's money came from PACs when she first ran for congress in 2006, falling to 28.4 percent for the 2008 cycle, and just 3.4 percent in her record-setting 2010 campaign.
Bachmann raised just $1,000 from PACs in the first quarter of 2011.
The previous low mark for Bachmann since being elected to the Gopher State's 6th CD was $31,402 during the 3rd Quarter of 2009.
Small donor dominance
The Congresswoman has also taken great pride in the sheer number of contributions she has received from supporters across the country, particularly small-donor contributions (individuals giving less than $200 for the cycle to date).
Of her $1.7 million haul last quarter, 74.7 percent came from small donors ($1.28 million) – the largest percentage of small donor backers in any quarter since she first began running for Congress in early 2005.
During the 2006 election cycle, just 17.2 percent of Bachmann's money came from small donors, increasing to 26.7 percent in the 2008 cycle and 60.9 percent in the 2010 cycle.
The previous record high for Bachmann in a single quarter was Q3 of 2010 when 65.8 percent of the $5.5 million she raised came from small donors.
Follow Smart Politics on Twitter.