Ron Paul to Become 3rd Oldest Major Party Presidential Candidate in U.S. History
Only Minnesota's Harold Stassen and Alaska's Mike Gravel would have made older presidents if elected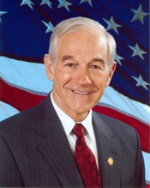 Republican U.S. Representative Ron Paul's (TX-14) announcement Tuesday afternoon in Des Moines, Iowa that he was forming a presidential exploratory committee puts him in rare company in the annals of presidential campaigns.
Congressman Paul, who turns 76 in August, would be 77 years old if elected president, and the third oldest major party candidate in the history of U.S. presidential elections.
Smart Politics reviewed the hundreds of candidates who have campaigned for the presidency since the 18th Century and finds that only two were older than Ron Paul as he launches his 2012 bid: former Minnesota Republican Governor Harold Stassen (in 1984, 1988, 1992) and former Alaska Senator Mike Gravel (in 2008).
Over the last 200+ years, approximately two-dozen major party candidates have sought the White House while in their 70s like Paul.
However, only once has such a candidate actually been elected president: Ronald Reagan, winning his second term in 1984 at the age of 73.
Only two other septuagenarian candidates have received their party's nomination in U.S. history – both Republicans, and both in the last two decades (and both with a then record age disparity over their Democratic opponent): Bob Dole in 1996 (age 73, 23 years older than Bill Clinton) and John McCain in 2008 (age 72, 25 years older than Barack Obama).
But Reagan, McCain, and Dole are not at the top of the oldest major party presidential candidate list.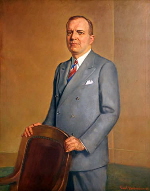 That distinction rests with Governor Harold Stassen, who also made presidential runs as a GOPer in 1948, 1952, 1960, 1968, 1972, 1976, and 1980, and would have been 77 years old on Inauguration Day if his long-shot 1984 bid had been successful.
Stassen also ran as a Republican in 1988 and 1992 – the latter campaign making him the oldest major party candidate to launch a presidential bid at 84 years old.
The second oldest individual to run for the presidency from a major political party was former Alaska Senator Mike Gravel.
Gravel ran for the 2008 Democratic nomination before leaving the party to become a Libertarian a few months shy of his 78th birthday.
Ron Paul is already on the 70+ year-old presidential candidate list – dropping out of the 2008 Republican race in the early summer just a few months before his 73rd birthday.
And yet, it hardly seems like Paul's age would be much of a factor if he is ultimately upended in 2012.
For although the Texas congressman would reach octogenarian status during his first term if elected president, he generates an energy among his loyal supporters that may be eclipsed by many candidates in breadth, but perhaps by no other candidate in depth.
For example, Paul's supporters frequently bewildered and frustrated cable television news anchors and commentators (e.g. FOX News' Sean Hannity) after GOP debates in 2008 by texting in his name with alacrity to insure he would be the debate "winner" in these unscientific digital popularity contests.
And, unlike Stassen and Gravel in campaigns past, Representative Paul has a definite seat at the fundraising table – and can do more with less than most contenders.
In the 2008 campaign, Paul raised more money than all but six of the 21 Democratic and Republican candidates who entered the race.
Paul's $34.5 million tally in '08 was more than twice that recorded by fellow Republican Mike Huckabee ($16.0 million), and ranked behind only nominees Barack Obama and John McCain and Hillary Clinton, Mitt Romney, Rudy Giuliani, and John Edwards.
And as for those septuagenarian candidates who have preceded Paul?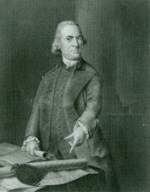 The first 70+ year old in a presidential election was Massachusetts Governor Samuel Adams, who was 74 when he received 15 Electoral College votes (good for fifth place) as a Federalist in the 1796 election won by his second cousin, John Adams.
However, Adams was not a presidential candidate in that race per se. Prior to the 12th Amendment, the candidate receiving the second most electoral college votes was elected vice-president (with each Elector casting two votes).
Adams' 15 votes in 1796 all came from Virginia, the vast majority of whose electors had sought to elect him as vice-president with Thomas Jefferson, who won 20 votes from the Commonwealth, as president.
The next 70+ year old to seek the presidency came more than 50 years later, in frequent candidate and political powerhouse Henry Clay of Kentucky in 1848.
Clay was 71 years old when he lost the Whig nomination to eventual general election winner Zachary Taylor.
Over the next 75 years, several 70+ year old major party candidates would run for the presidency or receive double-digit votes in convention balloting, but none of whom would receive their party's nomination, including:
· Former Whig Massachusetts U.S. Senator Daniel Webster in 1852 (age 70)
· Republican Supreme Court Justice John McLean in 1856 (age 71)
· Former Democratic Ohio Governor William Allen in 1876 (age 72)
· Democratic Ohio U.S. Senator Allen Thurman in 1884 (age 70)
· Democratic Illinois U.S. Senator John Palmer in 1892 (age 74)
· Republican New York Governor and former Vice President Levi Morton in 1896 (age 72)
· Republican Illinois U.S. Representative and Speaker of the House Joseph Cannon in 1908 (age 72)
· Former Republican New York U.S. Senator Elihu Root in 1916 (age 71)
· Democratic Michigan U.S. Senator Woodbridge Ferris in 1924 (age 71)
In addition to Reagan, Dole, Stassen, Gravel, and McCain, major party septuagenarian presidential candidates over the last 75+ years include:
· Democratic Missouri U.S. Senator (and 'favorite son' candidate) James Reed in 1932 (age 70)
· Republican Idaho U.S. Senator William Borah in 1936 (age 70)
· Democratic Vice President John Garner in 1940 (age 71)
· Democratic Vice President Alben Barkley in 1952 (age 74)
· Republican Kansas U.S. Senator (and favorite son candidate) Frank Carlson in 1968 (age 75)
· Former DFL Minnesota U.S. Senator Eugene McCarthy in 1992 (age 76)
Note: a few other 70+ year old politicians throughout history received a small handful of convention delegate votes (e.g. Republican Samuel Miller in 1888, Republican John Wanamaker in 1916, Democrat Thomas Marshall in 1924) or received favorite son status in primary voting (e.g. Republican Herbert Hitchcock from South Dakota in 1948) but none launched bona fide presidential campaigns.
Follow Smart Politics on Twitter.