Andre Carson and Keith Ellison Respond to bin Laden Killing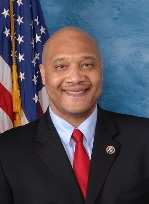 While one of the nation's two Muslim U.S. Representatives has pushed his official reaction to the American military action in Pakistan more visibly and with more alacrity than the other, both expressed their support of the killing of Osama bin Laden in statements on Monday.
Three-term Democrat André Carson of Indiana's 7th Congressional District posted his official statement first on Monday morning, in which he lauds President Barack Obama, the U.S. military, and the intelligence community that made the mission a success:
"Osama bin Laden's death is welcome news for our nation and for those who stand with the United States in its efforts to crush al Qaeda and defeat terrorism. I commend President Obama for his leadership and salute the intelligence community and our men and women in uniform for tracking down bin Laden and bringing him to justice.

Too many Americans have lived since 9/11 without a mother, father, or child because of bin Laden. I hope and pray these families find some comfort knowing that the man responsible for so much death has finally received what he deserved.

All Americans should rest assured that this, in no way, lessens our vigilance or diminishes our resolve to track down terrorist elements globally that threaten our country and our way of life."
Representative Carson not only posted his official statement on his U.S. House website, but he also linked to it immediately on his official Facebook and Twitter pages to communicate his support to his constituents and supporters.
A few hours later, Carson again tweeted about the killing, linking to a news article summarizing the views of Indiana's congressional delegation.
Three-term Democrat Keith Ellison from Minnesota's 5th Congressional District did not release his official statement until Monday afternoon:
"The death of Osama Bin Laden marks the most significant accomplishment yet in the war against Al-Qaeda. I commend the work of the U.S. Armed Forces and intelligence community for finding the world's most wanted terrorist. I also wish to recognize President Obama for his decisive leadership as Commander in Chief.

Today my thoughts are with the families of those Bin Laden murdered in the September 11th terrorist attacks. Even before 9/11, Bin Laden killed Americans and others at the U.S. embassies in Kenya and Tanzania, and on the USS Cole.

Americans of all faiths recognized the end of a truly evil man last night. Osama Bin Laden was a murderer. I hope his death marks the beginning of the end of the Al-Qaedaism ideology."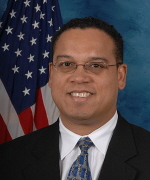 Ellison was the last of Minnesota's eight-member U.S. House delegation to issue a press release on the killing.
And, unlike Carson, Ellison has not pushed his statement supporting the killing of bin Laden as aggressively to his thousands of followers on various social media sites.
It was not until late Monday afternoon that Congressman Ellison issued his statement to his Facebook page.
As of early Monday evening, Rep. Ellison had not yet made his views on the killing known to his more than 14,600 followers on Twitter.
Ellison's relative Twitter silence on the killing of bin Laden is noteworthy insomuch as the congressman had tweeted 14 times over the weekend including six times on Sunday.
However, Ellison has tweeted only once since the President's Address to the Nation Sunday evening – a short description that does not advocate for the killing itself, but is instead a summary of bin Laden's crimes:
OBL responsible for mass killing in US, Palistan, Iraq, Kenya, Tanzania and more. Plus fear and suffering for many.
Last fall, Rep. Ellison tweeted on the 9th anniversary of 9/11 asking his followers to honor the victims and first responders.
Follow Smart Politics on Twitter.