Pence Seeks First Governorship by Sitting Indiana Congressman Since 1888
A sitting U.S. Representative from Indiana has not won a gubernatorial election in 123 years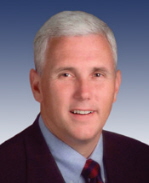 He may be the favorite horse in the race, but he's facing long historical odds.
Republican Congressman Mike Pence's (IN-06) announcement on Thursday that he is seeking the governorship of Indiana in 2012 may not have been an unexpected move, but his is not a gubernatorial pathway regularly taken in the Hoosier State.
A Smart Politics historical review of Indiana elections finds that a sitting member of the U.S. House has not been elected governor of Indiana in more than 120 years, when congressman Alvin Hovey won the Election of 1888 to become the state's 21st Governor.
The entrance of the six-term U.S. Representative into the 2012 race will likely put a damper on what could have otherwise been a wide open GOP field had Pence chosen not to run.
But the transition from U.S. Representative to governor is not a well-trodden pathway in Indiana politics.
For example, three-term Republican U.S. House member David McIntosh attempted a run at the governor's mansion in 2000, but failed to beat Democratic incumbent Frank O'Bannon in a 14.9-point defeat.
McIntosh's 41.7 percent tally was the third worst in the history of the Republican Party in an Indiana gubernatorial race, behind only Linley Pearson in 1992 (36.9 percent) and Winfield Durbin in 1912 (22.1 percent) when a Progressive candidate split the anti-Democratic vote (former U.S. Senator Albert Beveridge).
Before McIntosh, it had been 84 years since a sitting congressman from Indiana even made it onto the gubernatorial general election ballot.
In 1916, five-term Democratic U.S. House member John Adair lost by 1.8 points to Republican James Goodrich, winning 46.0 percent of the vote in a plurality-winning race.
Eight years prior, in 1908, six-term Republican U.S. Representative James Watson was defeated by 2.1 points by Democrat Thomas Marshall.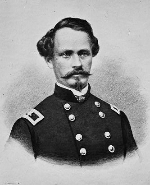 One has to go back 123 years to find the last time Indiana voters gave the nod for their state's chief executive to a member of the U.S. House – and that is because both nominees were sitting congressmen.
Alvin Hovey was a one-term Republican congressman when he won the election of 1888 with a plurality 49.0 percent over another sitting congressman – four-term Democrat Courtland Matson.
Aside from his distinguished military background (ascending to the rank of major general in the Civil War), Hovey had previously been a state supreme court justice, U.S. district attorney, and U.S. Minister to Peru before his short stint in the U.S. House.
The 1888 contest was one of the closest in Indiana history, with Hovey winning by 2,200 votes and just 0.4 points.
Prior to Hovey, two other sitting U.S. Representatives were elected Governor of Indiana during the 19th Century: four-term Democratic-Republican congressman William Hendricks in 1822 and one-term Democratic congressman James Williams in 1876.
(The state's first governor, Jonathan Jennings, was a four-term delegate from the Indiana Territory when he was elected to the first of his two terms as governor in 1816).
Overall, there have been six winning candidacies by sitting or former U.S. House members in Indiana history against more than 20 that have failed.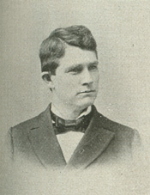 In addition to sitting congressmen William Hendricks (1822), James Williams (1876), and Alvin Hovey (1888), former members of the U.S. House later elected governor of Indiana are Thomas Hendricks (1872), Albert Porter (1880), and James Hanly (1904).
Hanly, who served one term from Indiana's 9th CD in the mid-1890s, is the last Hoosier State governor to have previously served in the U.S. House.
(Three other former congressmen were appointed territorial governors in the 1800s: Democrat John Davis (of Oregon, by President Pierce), Democrat Willis Gorman (of Minnesota, by Pierce), and Republican Ebenezer Dumont (of Idaho, by President Grant, although dying before taking office)).
Of course, with Indiana a traditionally red state, and with no other big GOP names in the race, Pence is probably wise to attempt to buck Indiana electoral history in 2012.
In fact, the congressman may want to get ready for an eight-year stint in Indianapolis: each of the last five elected governors of the Hoosier state was reelected to a second term: Republicans Doc Bowen (1972, 1976), Robert Orr (1980, 1984), and Mitch Daniels (2004, 2008), and Democrats Evan Bayh (1988, 1992) and Frank O'Bannon (1996, 2000).
Follow Smart Politics on Twitter.