Gingrich Launches First Presidential Bid by House Speaker Since 1940
Gingrich becomes just the 4th sitting or ex-House Speaker to run for president since 1900 and the first since World War II; Speakers are 1 for 16 in presidential bids in U.S. history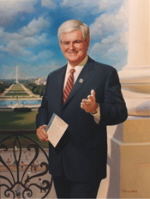 With Newt Gingrich announcing his bid for the 2012 Republican presidential nomination on Wednesday, the former Georgia congressman sets out on an adventure upon which few former Speakers of the House have embarked, particularly in the modern era.
Although the Speaker of the House is one of the most important and powerful political offices in the country, only three have attempted to leverage that position into a run for the White House since the 20th Century and just nine overall.
Perhaps due in part to the increased political polarization and high negatives that are frequently associated with the position in recent decades, no such Speaker has run for the presidency since the United States entered World War II more than 70 years ago.
Until Gingrich.
A Smart Politics review of presidential elections finds that Newt Gingrich has become just the 10th sitting or former Speaker of the House ever to launch a presidential bid, and the first to do so since 1940.
The previous nine presidential candidates who had served as House Speaker were Henry Clay of Kentucky (in 1824, 1832, 1840, 1844, 1848), James Polk of Tennessee (1844), John Bell of Tennessee (1860), James Blaine of Maine (1876, 1880, and 1884), Samuel Randall of Pennsylvania (1884), Thomas Reed of Maine (1896), Joseph Cannon of Illinois (1908), Champ Clark of Missouri (1912), and John Garner of Texas (1932, 1940).
In total, these nine former Speakers vied for the presidency a total of 16 times.
But they have won just once.
The only time a former Speaker of the House won the White House was in 1844, in a general election with a historical oddity.
In that year's presidential race, the major party nominees matched up against each other were both former House speakers: Democrat James Polk and Whig Henry Clay in the fourth of his five presidential bids.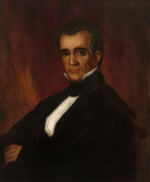 Polk – who served as speaker from late 1835 until March 1839 – carried the popular vote by just 39,000 votes, but defeated Clay by a 170 to 105 margin in the Electoral College.
Polk's +5,106 vote margin in elector-rich New York (36 votes) proved to be decisive in a close race that found Clay carrying 11 states while Polk notched 14.
Clay was also the first House Speaker to seek the presidency, running as one of four prominent Democratic-Republicans in 1824 – one of the most fascinating presidential elections in U.S. history.
Clay finished fourth in general election balloting with 37 Electoral College votes, carrying his home state of Kentucky along with Ohio and Missouri in a contest eventually won by John Quincy Adams over Andrew Jackson in the House of Representatives.
Clay next ran for president in 1832 as a National Republican challenging the incumbent Democrat Jackson. Clay came in a distant second with 49 Electoral College votes, winning six states.
In 1840, Clay lost the Whig nomination to 1836 nominee William Henry Harrison, although he was leading after the first several convention ballots.
After the Clay-Polk battle of 1844, Clay tried one more run for the White House in 1848. Clay was second in initial balloting but could not overcome eventual Whig nominee Zachary Taylor.
The next former House Speaker to run for president was John Bell from Tennessee in 1860.
Bell had served as speaker for less than a year from June 1834 to March 1835 as a Whig.
Twenty-five years later, Bell ran under the Constitutional Union banner, a party that included many southern Whigs after that party dissolved.
Bell placed third out of four candidates with 39 Electoral College votes (winning Kentucky, Tennessee, and Virginia) behind Abraham Lincoln and John Breckenridge and ahead of Stephen Douglas.
(Note: Bell had also received a few votes at the American Party convention in 1856 that nominated Millard Fillmore).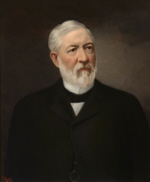 James Blaine of Maine was the next former Speaker of the House to seek the presidency – running in 1876, 1880, and 1884.
Blaine, who served as Speaker from 1869-1874, failed to win the GOP nomination in 1876, although he led after the convention's first several ballots, but ultimately lost to eventual general election winner Rutherford Hayes.
Blaine tried again in 1880, but never led in the convention balloting process, coming in second after the first ballot for the nomination won by general election winner James Garfield.
The third time nearly proved to be a charm for Blaine in 1884.
While Blaine won the Republican nomination, he lost the general election to Democrat Grover Cleveland in one of the closest popular vote presidential contests in U.S. history (a 57,579 vote difference out of over 10 million cast).
Blaine won 18 states and 182 Electoral College votes to Cleveland's 20 states and 219 Electoral College votes.
Although Blaine received several dozen votes during the 1888 and 1892 Republican conventions, he was not a presidential candidate in either of those cycles.
In 1884, Pennsylvania Democrat Samuel Randall placed fourth in the first convention ballot that ultimately nominated Grover Cleveland for president.
Randall served as speaker from late 1876 to 1881.
In 1896, then House Speaker Thomas Reed of Maine lost the Republican presidential nomination to William McKinley.
Reed was second in convention balloting that year. The congressman had two stints as Speaker, from 1889-1891 and 1895-1899 in a 22-year career in the U.S. House.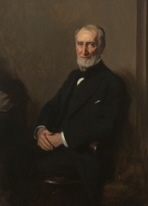 The next Speaker to make a presidential run was Republican Joseph Cannon of Illinois, who served in that capacity from 1903 to 1911.
Cannon was one of six GOPers to receive more than 20 convention ballot votes in 1908. Soon to be President William Howard Taft ran away with the nomination with 702 votes, with Cannon a distant fourth with 58.
Four years later, Speaker Champ Clark of Missouri was an early favorite to win the Democratic nomination eventually secured by Woodrow Wilson.
Clark served as Speaker for eight years from 1911-1919.
The last Speaker to make a presidential run before Gingrich was Democrat John Garner of Texas, who served in that capacity from 1931-1933 when he became Vice President under FDR.
Garner challenged Roosevelt in both the 1932 election and in 1940, when he placed a distant third in convention balloting while serving as VP.
One striking difference between Gingrich and the previous nine House Speakers who launched presidential bids is that Gingrich has been out of office and removed from political campaigning for more than a decade (leaving the House in 1999):

· Clay was House Speaker when he ran for president in 1824, a U.S. Senator in 1832, a U.S. Senator in 1840, two years removed from the U.S. Senate in 1844, and six years removed in 1848.
· Although Polk was not in office in 1844 (his gubernatorial term in Tennessee ended in 1841), he launched gubernatorial reelection campaigns in both 1841 and 1843 (losing both times to Whig James Jones).
· John Bell had just completed his term in the U.S. Senate in 1859 – one year prior to his 1860 presidential bid.
· James Blaine was serving in the U.S. House during his 1876 presidential campaign, in the Senate during his 1880 bid, and three years removed from his stint as Secretary of State under Presidents Garfield and Arthur.
· Samuel Randall was serving in the U.S. House when he made a run at the White House in 1884.
· Thomas Reed was Speaker of the House when he ran for president in 1896.
· Joseph Cannon was serving as House Speaker when he received support at the GOP convention during the Election of 1908.
· Champ Clark was Speaker of the House during his 1912 presidential bid.
· John Garner was House Speaker during his 1932 run and Vice-President when he ran in 1940.
However, while Gingrich's lack of governmental service has not historically been the norm for House Speakers after their tenure as the most powerful member of the nation's lower legislative chamber, this has generally been the case in recent decades.
Even so, in addition to several Speakers continuing to serve in the U.S. House, post Speaker governmental positions over the last 200+ years include:
· 11 U.S. Senators
· 6 governors
· 4 state representatives
· 4 state judges
· 3 state senators
· 3 ministers or ambassadors
· 2 Secretaries of State
· 2 Secretaries of the Treasury
· 1 Secretary of War
· 1 Supreme Court Justice
· 1 U.S. Circuit Court judge
· 1 mayor
· 1 U.S. Marshall
And is it possible that Gingrich is launching this bid with hopes of angling for a VP slot?
Not likely.
Former Speakers have historically not been attractive running mates for presidential hopefuls, with just three winning that slot over the past 200+ years: Jacksonian Nathaniel Macon of North Carolina in 1824 (losing on William Crawford's ticket), Republican Schuyler Colfax of Indiana in 1868 (winning with Ulysses Grant for his first term), and John Garner of Texas in 1932 and 1936 (winning twice on FDR's ticket).
Follow Smart Politics on Twitter.