Dennis Kucinich Reelection Scheme from Washington Would Make U.S. History
No U.S. Representative has won reelection in back-to-back cycles after moving to a new state in the history of the House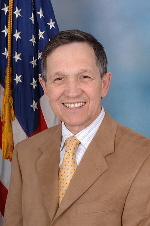 Ohio congressman Dennis Kucinich's recently hatched plan to possibly run for Congress in 2012 from Washington State has been alternately met with lukewarm and befuddled reactions.
That plan would likely be set in motion if the eight-term Representative loses a substantial portion of his 10th CD constituents during redistricting. (Ohio will shed two of its 18 seats with the new apportionment to the 113th Congress next year).
A move to Washington would not simply turn heads (and perhaps roll eyes) in Ohio but across the country, as Kucinich would be setting in motion a plan that, if successful, would be a first in American political history.
A Smart Politics review of electoral data from the Biographical Directory of the United States Congress finds that no U.S. Representative has won reelection to the House in back-to-back cycles after moving to a different state over the institution's 222 years.
Overall, 21 U.S. Representatives have been elected to the House from two different states, although six of these did not need to move to do so.
As part of the Missouri Compromise of 1820, Maine – which had been an enclave of Massachusetts – was separated and became the 23rd state in the Union.
As a result, three U.S. Representatives from the Commonwealth of Massachusetts were reelected to the House in 1820 as part of the new Maine U.S. House delegation: Enoch Lincoln, Joshua Cushman, and Mark Hill.
Another three U.S. House members became representatives from West Virginia in 1863 when that region broke off from Virginia during the Civil War in June of that year: William Brown, Jacob Blaire, and Kellian Whaley.
That leaves 15 U.S. Representatives who moved to another state, only to be elected once again to the nation's lower legislative chamber a number of years down the road.
The first to do so was Daniel Hiester, who served at the opening of the 1st Congress in 1789 until July 1796, when he resigned and moved to Hagerstown, Maryland.
A little over four years later, Hiester was elected to Maryland's 4th CD in 1800 and served until his death in 1804.
Over the next century, excluding the Maine and West Virginia holdovers, another 11 U.S. Representatives packed up and moved to a new state and would later return to the U.S. House as part of a new delegation.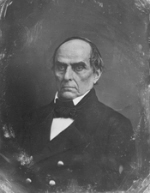 The most notable of these men was the renowned 19th Century statesman Daniel Webster.
Webster first served in the House from New Hampshire, as its at-large representative from 1813-1817.
After two terms, Webster did not seek reelection in 1816 and moved to Boston, where in 1822 he was elected to the Bay State's 1st CD and served for another two terms.
Webster was then elected to the U.S. Senate in Massachusetts, serving the state in that capacity from 1827-41 and 1845-1850.
More than 100 years later, a Senate committee honored Webster and four other men as the most outstanding Senators in U.S. History – the "Famous Five."
But Webster's six-year absence in the U.S. House between New Hampshire and Massachusetts is actually on the low side among the 15 members who have served House districts from two states.
The average absence from the U.S. House among these representatives to move, resettle, and build up enough political capital to run again and win a House seat in their new state was 12 years.
It took Edward Livingston 28 years from last serving as a representative from New York (1795-1801) until he was next sworn in from Louisiana (1823-1829).
Other representatives with a 20+ year gap between House appearances from different states are:
· Republican William Vandever, with a 26-year gap: serving Iowa's 2nd CD (1859-1861) and then California's 6th CD (1887-1891).
· Democrat Robert Hill, with a 22-year gap: serving Illinois' 25th CD (1913-1915) and then Oklahoma's 5th CD (1937).
· John Sevier, with a 20-year gap: serving North Carolina's 5th CD in the 1st Congress (1789-1791) and then as Tennessee's at-large representative (1811-1815). Sevier was also Governor of the Volunteer State for 11 years in between.
The shortest gap – and the record Kucinich would be trying to break – is held by Matthew Lyon.
Lyon represented Vermont's 1st CD from 1797 to 1801 before losing his 1800 reelection bid. Lyon then moved to Kentucky and was elected to the U.S. House two years later in 1802.
But what was an unusual practice in the 19th Century of a U.S. Representative getting elected to the House from two different states over the course of his political career, became a rarity during the 20th Century.
Just three members have accomplished this feat since 1900 (including Robert Hill mentioned above).
Charles Towne was the first to do so in the 20th Century, representing Minnesota's 6th CD as a Republican from 1895 to 1897 and then New York's 14th CD as a Democrat from 1905 to 1907 (with a brief stop in the Senate from the Gopher State in between from 1900-1901).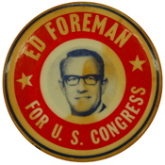 The last U.S. Representative to get elected from two states was Republican Ed Foreman, who did so more than 40 years ago.
Foreman was first elected to the U.S. House from Texas' 16th CD in 1962, but was defeated during the Democratic landslide of 1964 by Richard White (who would hold the seat until 1983).
Foreman next ran for Congress from New Mexico in 1968, winning the state's newly-created 2nd CD. Foreman would lose his reelection bid in 1970 to Democrat Harold Runnels.
With just three successful case studies over the last 110 years of American political history, why is Dennis Kucinich even contemplating such a bizarre reelection scheme?
First, although he is not quite a household name, the Ohio congressman's two presidential election bids in 2004 and 2008 make him much more well-known than the average member of the U.S. House.
Second, there is a method to Kucinich's madness in targeting the Evergreen State.
During his 2008 presidential election bid, Kucinich raised more large donor individual funds from Washington State residents ($99,992) than any other state in the nation with the exception of California ($617,779) and New York ($121,281).
Kucinich raised 63 percent more money in large donor contributions from residents of Washington than his home state of Ohio ($61,204) in that campaign.
When taking into account population, Kucinich raised nearly three times as much money per resident in Washington ($1,486.97 per 100,000 residents) than the Buckeye State ($530.52) for his 2008 presidential bid.
Washington gave Kucinich the fifth highest per capita tally in large donor money in the nation behind only New Hampshire ($2,519 per 100,000 residents), Hawaii ($2,287), Oregon ($1,795), and California ($1,658).
(Note: An additional 16 U.S. Representatives have gone on to win a U.S. Senate seat from another state – all but one in the 19th Century. Another 10 individuals were delegates from a U.S. territory and either another territory or a representative from a different state.)
Follow Smart Politics on Twitter.