From Rumor to Reality: Pawlenty's 2,456-Day Presidential Candidacy Roll Out
National chatter of a T-Paw presidential bid first began nearly seven years ago at the 2004 RNC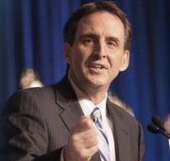 Unlike the comparatively meteoric rise from obscurity to presidential candidate by Barack Obama, from the 2004 Democratic National convention to his announcement two and a half years later, the ascension of Tim Pawlenty on the national scene has been much more gradual and by the book.
In fact, Pawlenty's roll out has had an arc of more than 1,500 additional days than the former Democratic U.S. Senator from Illinois.
Pawlenty announced his official bid for the Republican presidential nomination in a video on Sunday afternoon and will make his first campaign stop Monday morning in Des Moines, Iowa, just a shade more than two months since he announced his presidential exploratory committee on March 21st of this year.
It took Obama just 928 days from his Keynote Address at the July 2004 DNC to announce his run for the White House on February 10, 2007.
By contrast, from the first explicit national chatter of a Pawlenty presidential candidacy during the 2004 Republican National Convention through his announcement on Sunday took a slow build up of 2,456 days – or 1,528 more days than Obama for the former Republican Minnesota governor.
Pawlenty – first elected in 2002 – governed in relative obscurity for his first year, but started to get notices outside of Minnesota in 2004, including some national media appearances throughout the year, such as on CBS News, Hardball, and National Public Radio.
However, none of these interviewers touched on Pawlenty's post-gubernatorial ambitions.
The increased national exposure did prompt Minnesota political reporters to begin speculating about Pawlenty's future plans.
Still, prior to the 2004 Republican National Convention (held August 30 – September 2), most mentions of Pawlenty's future political career were reserved and vague – referring to him as a future star or a potential national candidate generally rather than one laying the groundwork to spearhead a presidential campaign:
"As a result of his growing visibility, many Republicans believe Pawlenty is a rising star on the national political stage." – Saint Paul Pioneer Press, March 28, 2004 ("Is Gov. Tim Pawlenty Being Groomed for…Higher Office?")
"Indeed, one can only imagine the pressure White House political director Karl Rove is placing on the governor to deliver this suddenly swing state for Bush. Pawlenty's aspirations as a national figure in 2008 and beyond probably hang in the balance." – Star Tribune, August 4, 2004 ("Kelly's hero; A boost for President Bush?")
The subtext was that Pawlenty – who was just 43 years old at the time – might be grooming himself for a VP slot down the road (which perhaps came close to happening in 2008 with John McCain).
That media frame changed at the RNC when Pawlenty made the rounds, including a well-received speech before the anti-tax organization Club for Growth.
The first splash for Pawlenty came in an August 30, 2004 Wall Street Journal opinion article by John Fund entitled, "Tryout Time: The 2008 presidential campaign gets under way in New York."
Pawlenty made Fund's list of nine candidates in what he called a "quick field guide to the possible 2008 GOP field."
Fund handicapped the Minnesota governor as a "dark-horse candidate" but lauded his "formidable political skills."
The rest of the media followed suit, now mentioning Pawlenty's unfolding career in the context of a future presidential run, rather than simply a "rising star" for the national stage.
"Who do you think should be Tim Pawlenty's vice presidential running mate in 2008?" – Duluth News Tribune, September 3, 2004 ("Overheard")
"All week, the first-term Republican governor has tamped down talk that he is lining himself up for a White House bid or some other national post. But his actions at the Republican convention – from a full slate of interviews with national reporters to a speech before a deep-pocketed conservative group – did just as much to play the possibility up." – Associated Press, September 2, 2004 ("Off stage but in sight, Pawlenty grooms image at convention")
"Other possible 2008 candidates include Gov. Jeb Bush of Florida, Sen. Norm Coleman of Minnesota, Sen. Chuck Hagel of Nebraska, Sen. George Allen of Virginia, Gov. Bill Owens of Colorado, Gov. Tim Pawlenty of Minnesota and Homeland Security Secretary Tom Ridge." – Knight Ridder, August 31, 2004 ("Republican wannabes use convention to start the 2008 campaign")
"Not all the possible 2008 players have the star power of a McCain or a Giuliani. Govs. Mitt Romney of Massachusetts, Bill Owens of Colorado and Tim Pawlenty of Minnesota, and Sens. George Allen of Virginia, Lindsey Graham of South Carolina and Sam Brownback of Kansas were among other lower-profile politicians on some lists of White House hopefuls." – Sacramento Bee, September 5, 2004 ("'08 hopefuls lay groundwork at GOP convention")
Most journalists were a bit premature as Pawlenty was not on a four-year plan to run for president in 2004, but an eight-year plan to run in 2012.
Over the next six plus years – including an extremely impressive reelection victory during the 2006 Democratic wave – Pawlenty would hone his fiscally conservative GOP credentials as governor, line up his financial and political capital, and increase his national presence through media appearances and travels across the country.
The methodical nature of Pawlenty's roll-out makes one of his first commentaries about his future political plans a year into his first term seem rather quaint:
"I don't have any plans to run for national office or to position myself for national office…As I tell people when they talk to me about national attention, I think I should be the best governor I can possibly be and work really hard at that, and if we do a good job as governor the rest of it will take care of itself." – Saint Paul Pioneer Press, March 28, 2004 ("Is Gov. Tim Pawlenty Being Groomed for…Higher Office?")
Follow Smart Politics on Twitter.