Bachmann Money Bomb Doubles Yield of 2009's 'Send a Message to the Left' Campaign
Team Bachmann raises $257,000+ in 36 hours targeting Obama vs. $118,000 over 48 hours in October 2009's campaign targeting Pelosi and Reid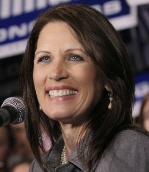 While Michele Bachmann has demonstrated over the last three years that she hardly needs gimmicks to fill her campaign coffers, she occasionally launches a high profile fundraising effort centered on a tangible, particular theme.
Over the last two days that theme has taken root in her "Money Bomb" campaign to "Help make Obama a one-term president."
While falling just a tad short of her initial stated goal of raising $240,000 in 24 hours, Representative Bachmann eclipsed the quarter million mark by mid-afternoon on Day 2 in a campaign that was even more successful than her lucrative October 2009 "Send a Message to the Left" fundraising blast.
During that cycle, when she was simply running for reelection for her 6th CD U.S. House seat in Minnesota, Bachmann used Nancy Pelosi as the primary departure point for energizing her fundraising base.
The "Send a Message to the Left" taglines were:
"Tell Big Sister Pelosi & Big Brother Reid to Leave You Alone!"
And:
"Help Michele Stop Nancy Pelosi's Tax and Spend Agenda"
Bachmann raised $89,000 in one day and $29,000 on the second day for a shade over $118,000 over the first 48 hours of that October 2009 fundraising drive – significantly higher than the $3,458 per day tally she was averaging throughout the first three quarters of that year.
Bachmann's new "Money Bomb" campaign, however, strategically targets Barack Obama – not simply because Pelosi is no longer running the House, but, of course, because of Bachmann's own likely White House ambitions.
Those ambitions are not so subtly referenced in the congresswoman's video on her Make Obama a One-Term President web page:
"And as many of you know my family and I are prayerfully considering what the next 18 months or so may bring. We've seen incredible support pouring in through Facebook, through our new website, and the Team Bachmann momentum is building and it's very encouraging as we look to our next steps."
Bachmann raised approximately $211,000 on the first day of her Money Bomb – or $122,000 and 137 percent more than her Day 1 tally of Send a Message to the Left in 2009.
Her Day 1 tally of $211,000 also represents a significant boost from the $19,086 per day average she recorded during the Q1 2011 haul of $1.71 million.
With approximately 12 hours yet left on Day 2, Bachmann has already added another $46,000, or $17,000 and 59 percent more than she did during the entire second day of Send a Message to the Left.
All told, in 36 hours Representative Bachmann tallied $257,000 in this fundraising drive, or $139,000 and 118 percent more than she raised during the full 48 hours of her Send a Message to the Left drive.
Bachmann is expected to announce her 2012 plans in her birth state of Iowa next month.
Follow Smart Politics on Twitter.