Rick Santorum, Catholicism, and the 2012 Republican Ticket
Republicans have nominated a Catholic just once on the presidential ballot in 152 years, compared to seven times for the Democrats since 1928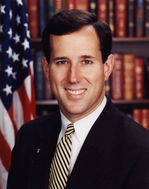 Former two-term Pennsylvania U.S. Senator and U.S. Representative Rick Santorum is expected to announce his candidacy for the 2012 Republican presidential nomination on Monday in Somerset, Pennsylvania.
Santorum will be the second Catholic to jump into the GOP field, but, in addition to being one of the least well-known candidates, he also faces a notable historical hurdle in finding a place on the Republican ticket – either in the presidential or vice-presidential slot.
At issue is not Santorum's conservative credentials.
The Pennsylvania Republican has often been a strong voice for staunchly conservative principles on a host of social and foreign policy issues during both his tenure in D.C. as well as in his recent turn as a FOX News contributor.
However, the track record of the Republican electorate and GOP establishment reveals only one instance in which a Catholic has been nominated to its presidential ballot in 152 years: New York U.S. Representative and Republican National Committee Chair William Miller in 1964 for vice-president.
By contrast, Catholic Democrats have appeared on the general election ballot in presidential elections seven times in the last 80 years: 1928, 1960, 1968, 1972, 1984, 2004, and 2008, with an eighth coming in 2012.
Santorum now joins Newt Gingrich – a very recent convert to Catholicism – as the second Catholic vying for the 2012 GOP nod.
(The Republican field also includes an ex-Catholic, Tim Pawlenty, who now attends a Baptist-affiliated church).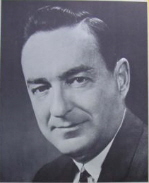 William Miller was in his seventh term as a congressman from upstate New York when he appeared on the 1964 ticket with presidential nominee Barry Goldwater that got demolished by Lyndon Johnson and Hubert Humphrey.
Miller had not campaigned for the top of the ticket that cycle.
The New York congressman became chairman of the RNC three years prior in 1961 succeeding Kentucky U.S Senator Thurston Morton in that role.
For decades, Catholic Republicans were rarely candidates for their party's presidential nomination, although that has changed in recent years – even though none have been successful and none have received the VP slot since '64.
In 2008, four Catholic presidential candidates entered the race on the Republican side – with most exiting early in the campaign: Rudy Giuliani, Sam Brownback, Tommy Thompson, and Alan Keyes.
Other recent Republican Catholics seeking their party's presidential nomination include long-shots Pat Buchanan (1992, 1996, 2000), Bob Smith (2000), Bob Dornan (1996), and Alexander Haig (1988).
Meanwhile, three Catholics have secured the Democratic presidential nomination during the last 80 years – Al Smith from New York in 1928, the victorious John Kennedy in 1960, and Massachusetts Senator John Kerry in 2004.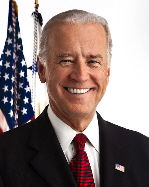 On four other occasions Catholics have won the vice-presidential nomination for the Democratic Party: Edmund Muskie in 1968, Sargent Shriver in 1972 (succeeding previous nominee Thomas Eagleton – also a Catholic), Geraldine Ferraro in 1984, and Joe Biden in 2008.
Biden is expected to run with Barack Obama again in 2012, bringing the Catholic tally to eight on the Democratic presidential ticket over the 80+ years since Al Smith became the first Catholic major party nominee for the nation's top elected office.
When Kennedy was elected president in 1960, the Catholic vote split approximately 80-20 in his favor, according to Gallup and National Election Studies (NES) surveys conducted at the time.
Despite having Rep. Miller on the GOP ticket in 1964, Democrats still carried more than three-quarters of the Catholic vote in that year's landslide election.
Since 1964, however, Democrats have not eclipsed the 60 percent mark of the Catholic vote in any of the last 11 presidential elections – reaching the high 50s only once in 1968.
Gallup final pre-election surveys, media exit polling, and NES post-election surveys conducted since 1972 all find that Republicans won the Catholic vote during the landslide elections of 1972, 1980, and 1984.
Such polling also unanimously found Democrats winning the Catholic vote in 1976, 1992, 1996, 2000 (narrowly), and 2008.
Pollster findings were split in 1988 and 2004 with Gallup and NES finding Catholics voting for the Democratic tickets and media exit polling finding Republicans winning a majority of this bloc of votes.
Roman Catholics currently comprise just over a quarter of the voting electorate with the 2008 election generally finding Catholics tracking the national vote.
There have been many more attempts to win the presidency by Catholic Democratic candidates since Kennedy's landmark win in 1960.
Catholic candidates who did not land on the general election ticket include Bill Richardson (2008), Dennis Kucinich (2004, 2008), Chris Dodd (2008), Tom Vilsack (2008), Jerry Brown (1976, 1980, 1992), Tom Harkin (1992), Eugene McCarthy (1968, 1972, 1992), Bruce Babbitt (1988), Joe Biden (1988), Ted Kennedy (1980), Sargent Shriver (1976), Edmund Muskie (1972), and the assassinated Robert Kennedy (1968).
In a reprise of the 2008 cycle, recent polling has shown Catholic and as of yet non-candidate Rudy Giuliani leading the field among GOP primary voters nationwide.
Follow Smart Politics on Twitter.