Obama the Most Veto-Shy President Since James Garfield
Obama has issued just one veto every 435 days; the presidential average since 1881 is once every 20 days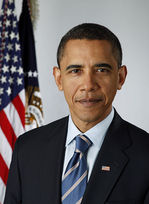 Barack Obama has been in office nearly 875 days, but his veto pen ink well is still nearly filled to the brim.
And that fact may be a powerful rhetorical weapon for the Republican nominee in 2012.
The nation's 44th President has vetoed only two bills as he approaches the 2.5-year mark into his administration, which Smart Politics finds is the most infrequent use of the president's veto power among the 23 men who have served since James Garfield died and Chester Arthur took office 130 years ago.
President Obama has vetoed one bill every 435 days he has been in office, or more than 20 times the average length of once per 20 days across the nearly two-dozen presidential administrations since 1881.
Obama's two vetoes to date were a stopgap appropriations bill on December 30, 2009 and a housing foreclosure bill on October 7, 2010.
(Sometimes the threat of a veto can be an effective tool, and Obama has publicly threatened to veto bills during the 112th Congress – such as House GOP legislation proposed earlier this spring when the government shutdown was looming).
Of course, there are several variables that impact the number of vetoes issued by the president, such as the amount of legislation that crosses his desk, divided government between the two chambers and/or the presidency, and the overall relationship and level of negotiation that exists during the legislative process between the two branches.
However, even though Obama worked with a Democratic-controlled Congress for the first 700+ days of his administration, his veto rate still lags far behind the seven presidents since 1881 who worked with a legislative branch controlled by their own party throughout the entirety of their tenure:
· Democrat Franklin Roosevelt vetoed one bill every 7 days
· Republican Teddy Roosevelt vetoed one bill every 33 days
· Republican William McKinley vetoed one bill every 39 days
· Republican Calvin Coolidge vetoed one bill every 41 days
· Democrat John Kennedy vetoed one bill every 49 days
· Democrat Lyndon Johnson vetoed one bill every 63 days
· Republican Warren Harding vetoed one bill every 147 days
(Note: Democrat Jimmy Carter vetoed one bill every 47 days, however the GOP took control of the Senate for the last 18 days of his administration after the 1980 election).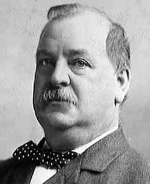 Democrat Grover Cleveland – who had to work with both Republican and Democratic-controlled chambers during his two terms in office, vetoed a bill once every five days – the most frequent of any president in U.S. history.
Over his 2,922 days in office from 1885-1889 and 1893-1897, Cleveland issued 584 vetoes – second only to FDR in total number (Roosevelt issued 635 during his 4,422 days in office).
Prior to Chester Arthur, the only presidents who regularly used their veto pen were Ulysses Grant and Andrew Johnson with seven presidents never issuing a single veto throughout their administration: John Adams, Thomas Jefferson, John Quincy Adams, William Harrison, Zachary Taylor, Millard Fillmore, and James Garfield. (Garfield was in office just 199 days before dying and Harrison only 31).
The Obama veto issue could be a symbolic tool for whomever emerges as the Republican nominee in 2012, with federal budget deficits and the national debt still at the forefront of the public's concerns as the economic recovery struggles to take hold.
A shrewd candidate would point out the correlation that as deficits and the debt have ballooned over the last decade to record levels, the two presidents who most infrequently vetoed legislation over the past 130 years were Obama and George W. Bush (once every 243.5 days).
Number of Days in Office Per Veto by Presidential Administration Since Chester Arthur (1881-present)
President

Vetoes

Days

Days Per Veto

Barack Obama

2

870

435.0

George W. Bush

12

2,922

243.5

Warren G. Harding

6

881

146.8

Chester A. Arthur

12

1,262

105.2

Bill Clinton

37

2,922

79.0

Woodrow Wilson

44

2,922

66.4

Lyndon B. Johnson

30

1,886

62.9

John F. Kennedy

21

1,036

49.3

Richard Nixon

43

2,027

47.1

Jimmy Carter

31

1,461

47.1

Calvin Coolidge

50

2,040

40.8

Herbert Hoover

37

1,461

39.5

William McKinley

42

1,654

39.4

Ronald Reagan

78

2,922

37.5

William Howard Taft

39

1,461

37.5

Theodore Roosevelt

82

2,728

33.3

George H. W. Bush

44

1,461

33.2

Benjamin Harrison

44

1,461

33.2

Dwight D. Eisenhower

181

2,922

16.1

Gerald Ford

66

895

13.6

Harry S. Truman

250

2,840

11.4

Franklin D. Roosevelt

635

4,422

7.0

Grover Cleveland

584

2,922

5.0

Total

2,370

47,378

20.0
Veto data source: United States Senate.
Follow Smart Politics on Twitter.