Remember When? Bachmann Once Led the Cheers for Ron Paul 2012 Candidacy
Less than two years ago, Bachmann was Paul's opening act; on Monday the two U.S. Representatives share the New Hampshire stage as equals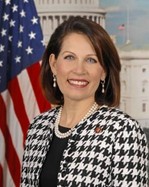 Despite criticism from pundits, would-be candidates (e.g. Donald Trump), and some party faithful about the purported thin state of the 2012 Republican presidential field, that field is still growing and will likely add at least a few more candidates before the dog days of summer.
One of those individuals expected to announce her candidacy later this month is Minnesota Congresswoman Michele Bachmann, who would join more than a half-dozen announced Republican contenders that include Texas U.S. Representative Ron Paul.
Interestingly, less than two years ago, Representative Bachmann joined Ron Paul on stage in Minneapolis for what would become one of several key steps to rebrand the congresswoman as not simply a Christian conservative but also a fiscal conservative and a credible leader of the Tea Party movement.
On September 25, 2009 Bachmann was the warm-up act at a University of Minnesota town hall forum for Ron Paul, who was coming off a 2008 presidential run that saw him raise an impressive $34.5 million.
Paul had already distinguished himself as a non-traditional Republican ripe for Tea Party support when he gave a keynote address a year prior at the Rally for the Republic protest convention – held in Minneapolis with over 10,000 attendees across town from the 2008 RNC in St. Paul that September.
After giving her speech at the 2009 Minneapolis town hall forum, Bachmann sat on stage and was one of Ron Paul's biggest cheerleaders as he railed against his traditional go-to targets on foreign and fiscal policy.
At the close of that event, the moderator posed one final question which simply read: "Ron Paul – 2012?"
Before Paul could answer, Bachmann leaped to her feet, along with the filled-to-capacity auditorium, and gave Paul an enthusiastic cheer and applause for his prospective 2012 run.
Were Bachmann and Paul connecting politically that early autumn evening, or was she simply being a gracious hostess?
Or did even Bachmann not anticipate the extent of her soon to be record-breaking fundraising haul she would notch during the 2010 election cycle which, in addition to forming the Tea Party House caucus in July 2010, helped clear her own presidential pathway.
In a matter of months, however, that pathway on the road to the 2012 Republican nomination will get narrower for the GOP field.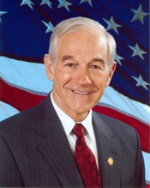 In the first big step on that path, both Paul and Bachmann will be sharing the stage Monday evening at the cycle's first New Hampshire debate.
This time, however, Bachmann will not be Paul's opening act.
One thing to look for Monday evening is the extent to which Paul and Bachmann try to carve out or fight for the same space among the Republican primary electorate.
Or, perhaps more likely, watch how Paul and Bachmann speak in unison in a nuanced chorus that criticizes not each other, but the direction of the country and the expansion of the federal government that has taken place under Barack Obama.
Paul and Bachmann will also stand together in another respect – and apart from their fellow debate participants – in that they are the only candidates currently serving in elected office.
The debate will also include former Minnesota Governor Tim Pawlenty, former Massachusetts Governor Mitt Romney, former Republican Senator Rick Santorum, former House Speaker Newt Gingrich, and businessman Herman Cain.
However warmly Bachmann and Paul might interact Monday evening, it is unlikely Representative Bachmann will heap quite as much praise on the congressman as she did 21 months ago:
"I've been just honored to know him…He truly is who he says he is. He's an awesome man."
Follow Smart Politics on Twitter.