Michele Bachmann Debuts on Jeopardy!
The Minnesota Congresswoman was nearly the most valuable answer (that is, question) to an $800 clue in an "All Politics Is Local" category last week on the popular game show.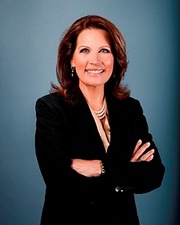 Did anyone have a better week in politics than Michele Bachmann?
The Minnesota Republican congresswoman and presidential candidate had a whirlwind week filled with headlines, overwhelmingly positive notices, rising poll numbers, and standing ovations.
But it also saw her name etched into the annals of one of the most popular television game shows in U.S. history.
Bachmann's stellar week began as the darling of CNN's New Hampshire GOP presidential debate, during which she announced her candidacy, on her way to earning some very positive reviews, even from liberal-leaning media outlets.
Shortly thereafter, Representative Bachmann saw her Rasmussen national polling numbers jump to 19 percent – good for second place behind only Mitt Romney in the increasingly crowded GOP field.
The congresswoman followed that up with a well-received speech on Friday at the 2011 Republican National Leadership Conference in New Orleans and then another barn burner of an address on Saturday at the conservative activist forum Rightonline held in Minneapolis – a stones throw from her congressional district.
But in the midst of it all, perhaps the peak of Bachmann Domination came when the congresswoman also gained cultural relevancy as her name appeared as the correct answer (that is, question) on the game show Jeopardy!
In a taped episode with fortuitous timing, last Wednesday's show (episode #6173), featured an opening round category of "All Politics Is Local."
The $800 clue read:
"In 2011 this congresswoman from Minnesota's 6th district gave a State of the Union rebuttal on behalf of the Tea Party."
Challenger John Mingey, a physician from Erie, Pennsylvania, correctly answered, "Who is Michele Bachmann?"
Easy pickings for politicos, to be sure, but a boon for the presidential hopeful from Minnesota who is still trying to gain higher name recognition among the general voting public beyond her Tea Party base.
Bachmann's $800 clue was more valuable than the following in her category:
$200: The shape of Illinois's 4th Congressional district is an example of this practice, named for a 19th century politician. ("What is gerrymandering?")
$400: In 2004 the mayor of New Paltz, New York made news when he started performing these ceremonies. ("What are gay weddings?")
$600: In 2008 its city council asked governor Jennifer Granholm to remove Kwame Kilpatrick as its mayor. ("What is Detroit?")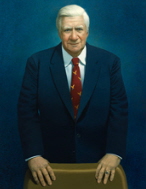 However, though she is one of the nation's better-known members of the House of Representatives, Congresswoman Bachmann had to take a back seat on Wednesday's episode to one of the most colorful Democratic Representatives of the last few generations with the $1,000 clue:
When JFK gave up his House seat to run for Senate in 1952, this man who said, "All politics is local" won it & kept it until 1987. ("Who is Tip O'Neill?")
As for Mr. Mingey, the contestant who earned $800 with Bachmann's name, he unfortunately finished in last place by the end of the episode with $4,600.
Bachmann's publicist would seemingly deserve a raise after a run like the past seven days, except for the fact that the Week in Bachmann is probably more than anything a culmination of buzz created by the congresswoman from logging in countless public and media appearances around the country over the past few years.
And so we're left with this parting clue:
Name any other member of the 2012 GOP field who has made a bigger splash diving into the presidential race while simultaneously earning near perfect technical scores along the way.
Answer: "Who is no one?"
Follow Smart Politics on Twitter.