Romney Remains Lone Blue State GOP Presidential Candidate
Nine of the 10 announced GOP candidates hail from red or purple states.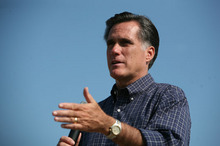 Mitt Romney is not simply alone on an island as the early Republican front runner in the 2012 presidential race, but he is also the only GOP candidate who hails from a true 'blue' state.
To date there are 10 'name' Republican candidates who have declared their candidacy, or at least formed an exploratory committee.
Five come from red states: Herman Cain and Newt Gingrich from Georgia, Buddy Roemer from Louisiana, Ron Paul from Texas, and the recently announced Jon Huntsman from Utah.
Another four candidates come from purple, or classic 'battleground' states: Tim Pawlenty and Michele Bachmann from Minnesota, Gary Johnson from New Mexico, and Rick Santorum from Pennsylvania.
Only former Massachusetts Governor Romney comes from a blue state.
Of course, that could all change if fellow failed 2008 candidate Rudy Giuliani enters the race – the former mayor of New York City in the deep blue Empire State.
Other possible late entrants into the 2012 race include red state politicians like Sarah Palin (Alaska) and Rick Perry (Texas) and Thad McCotter from the purple state of Michigan.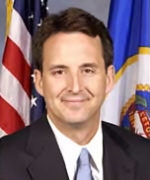 Former Minnesota Governor Tim Pawlenty has characterized his home state as "very liberal" in an effort to tout his broad appeal and electability credentials (owing to Minnesota's longest in the nation streak of voting for the Democratic nominee at nine).
However, Minnesota is much more purple than blue, even in presidential elections, as the Democratic nominee has won the Gopher State by less than four points in four of those nine contests and by seven points in a fifth.
With the exception of Romney, the Republican 2012 field fills out like the polar opposite of the 2008 Democratic field.
That race saw about half of its candidates come from blue states: Barack Obama (Illinois), Hillary Clinton (New York), Joe Biden (Delaware), and Chris Dodd (Connecticut).
While the other half hailed from purple states: John Edwards (North Carolina), Bill Richardson (New Mexico), Dennis Kucinich (Ohio), and Tom Vilsack (Iowa).
The only red state candidate for the Democrats in '08 was long-shot Mike Gravel – the former U.S. Senator from Alaska – who switched to the Libertarian Party in March of the election year.
If nominated, how unusual would it be for Romney to lose his home state and go on to win the election?
All but two elected U.S. Presidents won their home state en route to the White House: James Polk lost Tennessee by 0.1 points in 1844 and Woodrow Wilson lost New Jersey by 11.7 point during his successful reelection campaign of 1916.
Over the last 16 election cycles dating back to 1956, the winner has carried his home state by an average of 18.6 points with all but one winning by at least a dozen points (Richard Nixon won California by just 3.1 points in 1968).
Regarding Romney's competition in the 2012 field, no president has been elected from Minnesota, New Mexico, or Utah.
Four have been elected from Massachusetts (John Adams, John Quincy Adams, Calvin Coolidge, John Kennedy), with three from Texas (Lyndon Johnson, George H.W. Bush, George W. Bush), two from Pennsylvania (James Buchanan and Dwight Eisenhower), one from Georgia (Jimmy Carter), and one from Louisiana (Zachary Taylor).
Follow Smart Politics on Twitter.