Bachmann Tries to Defy History's Long Trail of Failed U.S. Representative Presidential Bids
More than 30 presidential campaigns have been launched by sitting U.S. House members over the last 100 years; all have failed and more than 3/4 ultimately ran for reelection to their House seat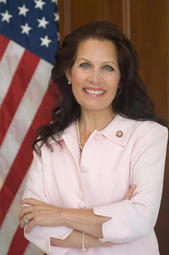 Michele Bachmann will formally announce her presidential campaign on Monday morning in her birth town of Waterloo, Iowa on the heels of early encouraging news from a Des Moines Register poll that finds her in a statistical tie with Mitt Romney atop the list of GOP presidential caucus goers in the Hawkeye State.
Though Bachmann is a Tea Party favorite, her prospective candidacy had previously drawn long odds due to her party outsider status and perhaps because only one sitting U.S. Representative had ever won the presidency – James Garfield in 1880.
But how many have tried?
A Smart Politics review of Democratic and Republican primary elections and convention balloting since 1912 finds that more than 30 presidential nomination campaigns have been launched by sitting members of the U.S. House.
None of these campaigns resulted in a ticket to the White House or even their party's nomination.
Of course, the nature of the party nomination process has changed significantly over the last 100 years.
The Election of 1912 was chosen as the departure point for this report as that cycle was the first to introduce the presidential primary in a handful of states.
During the last 100 years, some presidential candidates chose to compete in primaries across the country, some only ran in their home state or were otherwise designated as a 'favorite son' contender at the convention, and several challengers and front runners waited until the national convention to try to rack up their official delegate tally.
Across 26 election cycles dating back to 1912, U.S. House members have made a play for the presidency 33 times, with 21 of these bids embarked upon since 1972.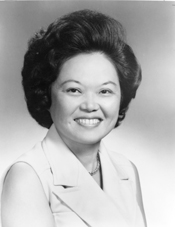 A few of these campaigns were purely symbolic, such as the one by four-term Hawaii Democratic congresswoman Patsy Mink in 1972.
Mink, who was opposed to the Vietnam war, appeared only on the Oregon presidential ballot, as liberals in that state solicited her to give "(A) platform to discuss opposition to the Vietnam War, force previous Democratic front-runner George McGovern to resume his antiwar focus, and hold the state's liberal votes together until its delegates reached the convention that summer." (Patsy Mink Papers, Library of Congress)
But although most of these 30+ members of Congress ran bona fide campaigns, only a few got anywhere near winning their party's nomination.
And none have done so in recent decades.
One U.S. House member who did make a competitive run was Democratic Missouri congressman (and House Speaker) Champ Clark in 1912, who led Woodrow Wilson by over 100 votes on the first convention ballot, though was short of the required 2/3 majority.
Wilson eventually won on the 46th ballot with Clark ending up second and Democratic House Majority Leader Oscar Underwood of Alabama in fourth.
In 1928, Tennessee Democratic congressman Cordell Hull came in second in convention balloting – but was far behind New York's Al Smith who won on the first ballot.
In 1932, Democratic Texas U.S. Representative (and House Speaker) John Nance Garner was running third in convention balloting behind FDR and Al Smith before bowing out in a deal that landed him the VP slot.
Presidential elections over the last several decades, however, have not been kind to sitting U.S. House members, with the best showings turned in by Democrat Dick Gephart who carried three states (including the Iowa caucuses) in 1988, as did Democrat Mo Udall of Arizona in 1976.
On Second Thought…
And what happens to U.S. House members who run for the presidency and fail – as all have done for more than a century?
Since 1912, more than three quarters of these candidates have ultimately run for reelection to their House seat after not securing their party's presidential nomination, or 24 of 31.
However, since 1980, six of 11 representatives opted not to run for reelection to the House after abandoning their presidential nomination bids.
Here are the seven candidates who chose not to run for another term in the House:
· Democrat John Garner (TX-15), a 15-term U.S. Representative, gave up his White House bid in exchange for the Vice-Presidential slot on Franklin Roosevelt's ticket in 1932.
· Republican John Anderson (IL-16) left the Republican Party in 1980 after failing to win the nomination and then ran as an independent with former Wisconsin Democratic Governor Patrick Lucey as his running mate. Anderson had served 10 terms in the House.
· Republican Jack Kemp (NY-31) retired from Congress after nine terms during his 1988 run at the GOP nomination. Kemp became the Secretary of HUD under George H.W. Bush and was Bob Dole's running mate in 1996.
· Republican John Kasich (OH-12) retired from his House seat after nine terms in 2000 when he took an early exit from that cycle's presidential race. Kasich was elected governor of the Buckeye State in 2010.
· Democrat Dick Gephardt's (MO-03) second attempt to win the Democratic nomination ended in early 2004 and the 14-term member of the U.S. House did not run for another term.
· Republican Duncan Hunter (CA-52) was one of the first 2008 GOP presidential hopefuls to end their campaign that cycle, and retired from his seat (subsequently won by his son) after 14 terms.
· Republican Tom Tancredo (CO-06) also retired after losing his 2008 White House bid at the end of his fifth term. Tancredo ran a last-minute Constitution Party campaign for governor of Colorado in 2010 after the implosion of the Republican Party in that race.
And as for the 24 U.S. Representatives who opted to run for their House seat, all but one were successful.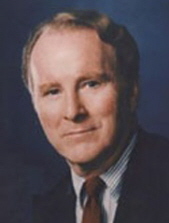 Only firebrand California Republican Bob Dornan was unable to win his seat – though he did not go quietly.
Dornan was a long-shot presidential candidate when he announced in mid-April of 1995. The nine-term congressman had been elected by nearly 20 points to the state's 46th CD during the Republican Revolution the previous November.
Dornan relaunched his U.S. House campaign in 1996 after exiting the presidential race, but was defeated by less than 1,000 votes that November by Democrat Loretta Sanchez.
Dornan then contested the election on the grounds that he lost due to non-citizens voting in the race. (Sanchez is Hispanic and the district absorbed more Hispanic voters after the 1992 redistricting process).
A more than year-long U.S. House investigation resulted in the discovery of several hundred illegal and non-citizen residents voting in the race, but not enough to overcome Sanchez's 975+ vote margin.
Sanchez fended off a Dornan rematch in 1998 by 17 points.
Is Bachmann Too Green?
Not only is Congresswoman Bachmann attempting to buck the long odds of history by running from the House, she is doing so with less experience in the nation's lower legislative chamber than almost all who have tried before her.
Of the 33 candidacies for the presidency launched over the last 100 years, only two had shorter stints in the House at the time of their campaign than Bachmann.
Both of these ran in 1972.
Democrat Walter Fauntroy was in his first term as Delegate from the District of Columbia when he ran a "symbolic" campaign – only appearing on the D.C. primary ballot to focus attention on issues affecting blacks and D.C. home rule.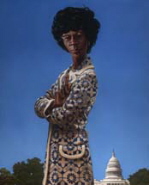 Two-term Democratic New York U.S. Representative Shirley Chisholm set sail on a more ambitious course for her Democratic nomination bid in 1972 – carrying three states and winning several hundred thousands of primary votes.
Also running in the 1972 race was a congressman who equaled Bachmann in House experience at three terms: Ohio Republican Pete McCloskey failed in his upset bid to defeat President Richard Nixon for the GOP nomination.
Overall, the average number of terms served in the U.S. House by presidential candidates serving in the U.S. House during the last 100 years was 8.4 terms before Bachmann entered the race.
Of course, while Bachmann may be short on D.C. service, she has other factors going in her favor that many of her House predecessors did not: relatively high name recognition, media savvy, and an extensive fundraising network.
Presidents Who Served in the U.S. House
Garfield is one of just three presidents in history, along with James Madison and Abraham Lincoln, who took their pathway to the presidency through the U.S. House as their highest political stepping-stone of elected office.
More than one-third (13) of the 38 different elected presidents in history served in the U.S. House at some point prior to their presidential win: Madison, Andrew Jackson, William H. Harrison, James Polk, Franklin Pierce, James Buchanan, Lincoln, Garfield, William McKinley, John Kennedy, Lyndon Johnson, Richard Nixon, and George H.W. Bush.
Four more Presidents who were never elected to the office also served in the U.S. House: John Tyler, Millard Fillmore, Andrew Johnson, and Gerald Ford.
Follow Smart Politics on Twitter.