U.S. Senate Eyes First Session During 4th of July Holiday Since Watergate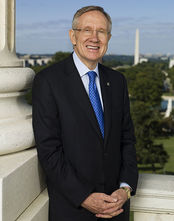 With the president and Congress still not on the same page in their efforts to reduce the federal deficit and national debt, there is a growing sentiment that the U.S. Senate may remain in session in D.C. next week in an unusual move that has not occurred in more than 35 years.
The U.S. Senate is tentatively slated to be recessed for the 4th of July holiday from Monday, July 4th through Friday, July 8th. (The House recessed after session last Friday).
With two weekends bookending those dates, it is possible the chamber would have a nine-day hiatus.
But Barack Obama called out legislators to remain in D.C. during his Wednesday press conference so that they could continue to work on a compromise deal over the holiday period during which a recess has normally been scheduled over the last five decades.
In Wednesday's press conference, the President said:
And so there's no point in procrastinating. There's no point in putting it off. We've got to get this done. And if by the end of this week, we have not seen substantial progress, then I think members of Congress need to understand we are going to start having to cancel things and stay here until we get it done. They're in one week, they're out one week. And then they're saying, Obama has got to step in. You need to be here. I've been here. I've been doing Afghanistan and bin Laden and the Greek crisis. You stay here. Let's get it done.
The last time Congress did not take a July 4th recess was in 1974, when both the U.S. Senate and House of Representatives did not recess after returning from Memorial Day weekend until August 22nd in the midst of President Richard Nixon's last days in office at the climax of the Watergate scandal.
It was during this time frame that Nixon was claiming executive privilege by refusing to turn over tapes of more than five dozen White House conversations, which ultimately led to a unanimous Supreme Court ruling against him on July 24th and articles of impeachment delivered by the House a few days later on the grounds of obstruction of justice.
Overall, the longest recess Congress has taken during this 37-year span overlapping the 4th of July is 25 days – in 1984, when both chambers were not in session into the fourth week of July.
The average Independence Day recess period for the Senate has been 12.7 days during this nearly four-decade span since Watergate, with the House clocking in at 12.9 days.
In addition to 1974, the other instances in which there was no recess during the Independence Day weekend over the last 50 years was in 1970 (for the Senate), 1965 (both chambers), 1964 (Senate), 1963 (both), 1962 (both), and 1961 (both) according to U.S. Senate records.
Follow Smart Politics on Twitter.