McCotter Tries to Buck Michigan's Dismal History of Presidential Campaigns
The Wolverine State has produced more than a dozen presidential candidacies; two resulted in party nominations, but none have been elected to the White House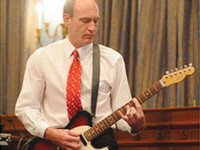 Despite being one of the nation's Top 10 most populous states for more than a century, Michigan remains one of many states never to have seen one of its politicians elected to the White House.
Michigan U.S. Representative Thaddeus McCotter hopes to change that – with an announcement this weekend at a Michigan rock festival that he would seek the 2012 GOP presidential nomination.
The former Michigan state senator was first elected to Congress in 2002 and is currently serving in his fifth term – though has wielded an electric guitar for much longer, and recently appeared on stage with bassist Mike Huckabee on his FOX television show.
But although Michigan can lay claim to the 38th President of the United States, Gerald Ford lost in his only bid to win the presidency at the ballot box, and became another in a long line of Michigan presidential candidacies to have fallen short of victory.
Since Ford's narrow 297 to 240 Electoral College vote loss to Jimmy Carter in 1976, only one Michigander has taken the presidential plunge.
In 1995, tire magnate Morry Taylor ran a short-lived, self-financed campaign for the 1996 Republican nomination, but dropped out to endorse Bob Dole in March of the election year.
McCotter hopes to last a bit longer than that, but his late entrance into the 2012 GOP field means that he is not only comparatively lagging behind the other candidates in terms of fundraising, but also name recognition.
McCotter also doesn't stand out in the Republican field for being a U.S. Representative, with fellow (and much more well-known) House GOPers Ron Paul and Michele Bachmann already in the race for an office that more than 30 sitting U.S. Representatives have failed to win over the last 100 years.
With these high hurdles in front of him, expectations are currently low for the Michigan congressman.
Although that hasn't always been the case for past Michigan White House hopefuls.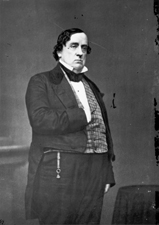 The first Michigan politician to seek the presidency was Democrat Lewis Cass, who launched four consecutive bids between 1844 and 1856.
Cass was a former long-serving Governor of Michigan Territory, serving from 1813 to 1831 until joining Andrew Jackson's administration as his Secretary of War.
Cass had not yet served in the U.S. Senate when he challenged front runner Martin Van Buren for the 1844 Democratic presidential nomination – running in second place on the first four convention ballots, and in first place (without the necessary majority) on the next four ballots until dark horse candidate James Polk eventually prevailed.
Cass took his Senate seat in 1845 and then ran for the Democratic nomination again in 1848 – this time succeeding, although falling short in the general election to Whig military hero Zachary Taylor.
Both Cass and Taylor won 15 states, with Cass' support stretching from Maine to Texas.
However, the Michigan Senator lost the Electoral College vote by a 163 to 127 margin, with Cass' narrow 3-point loss in Pennsylvania proving to be the defining moment on Election Day with the Keystone State's 26 votes going to Taylor.
The 1852 Republican convention saw Cass again leading among Democratic hopefuls with a plurality of the vote during each of the first 19 ballots.
Cass then fell behind James Buchanan for several ballots, only to gain the lead again on the 32nd through 44th ballots until eventually losing to Franklin Pierce.
Cass was never a serious contender in the 1856 race, placing a distant fourth out of the four contenders on all party convention ballots, receiving most of his limited support from the California delegation.
It would be 32 years before another Michigan politician would seek a major party nomination, with former Governor Russell Alger vying for the GOP nod in 1888.
Alger was in 4th place after the first round of balloting with 84 delegates, four more than eventual winner Benjamin Harrison.
A fair amount of Alger's tally came from his home state (26 delegates), with notable support from Tennessee (9), Alabama (6), and Missouri (6).
By the time Harrison won the nomination on the eighth ballot, Alger had settled into third place with 100 delegates.
The next Michigander to make at least a ripple, if not a wave, in convention balloting was automaker Henry Ford in 1916.
Ford had won Michigan's Republican primary earlier that year – defeating William Alden Smith, one of the state's U.S. Senators, by just over 5,000 votes.
At that year's convention, Ford came in 10th place with 32 delegates on the first round of balloting won by Charles Evans Hughes.
Eight years later, at the circus that was the 1924 Democratic convention (with its 103 presidential ballots), Michigan U.S. Senator Woodbridge Ferris was one of dozens of politicians to receive convention votes.
Ferris received 30 delegates on the 1st ballot (all from his home state) – good for 10th place.
Ferris had also served as governor of the Wolverine State from 1913-1916, and was the first Democrat from Michigan to receive nomination support since Lewis Cass' four-cycle run ended nearly 70 years prior.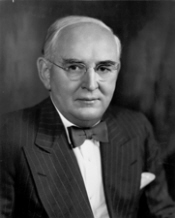 Performing a bit more competitively in 1940 and 1948 at the Republican National Convention was Michigan U.S. Senator Arthur Vandenberg.
Vandenberg ran a distant fourth during the first four rounds of balloting in 1940 with support ranging between 61 and 76 delegates. Vandenberg fell to fifth place in the next round before businessman Wendell Wilkie won on the sixth ballot.
In 1948, Vandenberg again ran in fourth after the first ballot with 62 delegates (about two-thirds coming from his home state).
The last notable Michigan politician to make a run at the presidency prior to Gerald Ford was Governor George Romney (father of current GOP front runner Mitt) in the 1960s.
Just a few years into his gubernatorial tenure, Romney sent out a few weather balloons against conservative Barry Goldwater in 1964, although he ended up not formally launching a campaign.
Romney still garnered 'favorite son' status by the Michigan delegation – receiving all 40 of their votes on the first ballot, plus one delegate from Kansas – good for fourth best.
Romney launched a formal presidential campaign in 1968, but his candidacy was derailed in part due to an interview he gave to a Detroit news station over the growing U.S. involvement in Vietnam in the fall of 1967.
Romney criticized the U.S. role in southeast Asia as a "tragic mistake," which ran counter to his previous support for the war in 1965 when he called it "morally right and necessary."
The Michigan governor explained his new view as follows:
"When I came back from Vietnam, I had just had the greatest brainwashing that anybody can get when you go over to Vietnam."
Romney's comments on "brainwashing" (from generals and diplomats) were quickly criticized by Democrats and Republicans alike, and he subsequently lost the support of prominent Michigan media outlets. Romney withdrew from the race in early 1968.
And now more than 35 years since Ford's 1976 run, McCotter tries to establish himself as the first substantial (though axe-playing) presidential candidate from Michigan in more than a generation.
One of the first challenges for McCotter as he seeks to maneuver his role in the GOP field is to make sure he gets to participate in the Republican debates – a feat other long shot candidates such as former New Mexico Governor Gary Johnson and Louisiana Governor Buddy Roemer failed to achieve in New Hampshire.
Follow Smart Politics on Twitter.