Bachmann Easily Navigates Vin Weber 'Sex Appeal' Incident
Congresswoman has long endured dozens of both awkwardly well-meaning and snarky comments about her appearance by political operatives and the media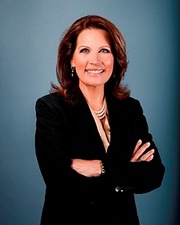 Tim Pawlenty campaign co-chair and former Minnesota Congressman Vin Weber's controversial comments last week about Michele Bachmann was the latest hiccup in a nomination battle that continues to see one Minnesotan gain support (and sympathy) and the other receive harsh grades for failing to meet early expectations.
Weber was addressing Bachmann's strength as a candidate in Iowa last week with The Hill when he said:
"She's got hometown appeal, she's got ideological appeal, and, I hate to say it, but she's got a little sex appeal too."
While Pawlenty quickly rebuked Weber's remarks, the former Minnesota governor has recently tried to invalidate Bachmann's qualifications in other ways, such as criticizing her "nonexistent" accomplishments in Congress and suggesting there's not much more to her candidacy than her ability to give "good speech."
Such attacks on Bachmann – diminishing her candidacy and influential role in American politics – are nothing new for the Congresswoman, who has become one of the most influential Republicans and a competitive 2012 presidential nominee contender in the face of a lack of support among the party establishment and a barrage of comments by journalists and pundits focusing on her appearance.
Here is a brief sampling of some of print and broadcast media commentary objectifying Bachmann in the U.S. and abroad that few of her male counterparts have witnessed:
Joy Behar: "Let's look at her. She's pretty. I'll give her that. She's attractive."
Tim Gunn: "Yeah, I mean, yeah, you strip everything off, she is — I mean, she has attractive features." – The Joy Behar Show, Headline News, January 26, 2011
"She is undeniably sexy, fiercely maternal, rabidly right wing and from the snowy wastes of the Northern United States…Bachmann is as beautiful, as right wing and as quotable as the erstwhile Alaskan governor." – Sunday Independent (Ireland), May 15, 2011
"Bachmann has the charisma but she is inexperienced."
– Dick Morris, The O'Reilly Factor, FOX News, May 18, 2011
"Let me get back to Bachmann. I think she's a very attractive lady." – Pat Buchanan, The McLaughlin Group, August 29, 2010
"Michele Bachmann has been dubbed, at least by Time magazine, as the campaign's new "It candidate," because you have to be careful these days when you say "It Girl." But you get the idea. She's the hot new thing in Republican presidential politics, which, let's face it, needs a hot new thing." – Mike Littwin, Denver Post, June 19, 2011
"Appearance: Glossy news anchor fired for unsettling, flashing eyes." – Times of London, June 4, 2011
"The incident was triggered by an incredible gaffe from a Fox favorite, Minnesota's attractive and zany Congresswoman Michele Bachmann, who was in the camp of the enemy, CNN's Anderson Cooper." – Charleston Gazette (WV), December 4, 2010
"On Nov. 2, Chris Matthews was vicious to smoking Michele Bachmann, newly elected Republican representative from Minnesota." – Andrea Peyser, New York Post, November 8, 2010
"Then there are Sarah Palin and Michele Bachmann. Attractive women, but I'm just not into that kind of thing. Just too crazy. Looking or dressing like them would be crazy, too." – Kevin Horrigan, Editorial, St. Louis Post Dispatch, May 29, 2011
"And finally, No. 10, Michelle Bachmann, as you pointed out, associated with the Tea Party. But you know, here's something interesting, Ann. Palin, Coulter, Malkin and Bachmann are all attractive women. They're all good looking. And I think that the liberals, they resent that. They think that all women who are good-looking should be liberal women." – Bill O'Reilly, The O'Reilly Factor, June 29, 2010
Of course, Bachmann and her campaign have not always dampened the attention to her physical appearance.
For example, a month ago adviser Ed Rollins favorably distinguished Bachmann from Palin thusly:
"People are going to say, 'I gotta make a choice and go with the intelligent woman who's every bit as attractive.'"
Bachmann has also appeared in the (tastefully shot) Clare Booth Luce Policy Institute's 2010 and 2011 Great American Conservative Women calendars.
But although Bachmann has not yet drawn the level of fixation on her physical appearance as has Sarah Palin, she has already illustrated she can handle such public objectification and chiding with much more aplomb.
With regards to the Vin Weber "sex appeal" flap, Bachmann bolstered her thick-skinned reputation (e.g. her FOX June 2011 interview with Chris Wallace, her WPHT January 2010 radio interview with former Pennsylvania Senator Arlen Specter) by sportively responding:
"Well listen, I'm 55 years old, I've given birth to five kids and I've raised 23 foster kids. So that sounds like good news to me!"
Far from being diminished, the Bachmann train is gaining steam.
Follow Smart Politics on Twitter.