Republicans Fail to Pick up Democratic Seat in 200th Consecutive California U.S. House Race
The California GOP has not picked up a Democratic held U.S. House seat in general or special elections since 1998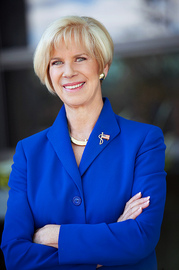 Democrat Janice Hahn's special election victory over Craig Huey in California's 36th Congressional District Tuesday evening continues a more than decade long string of futility on the part of California Republicans in their attempt to pick up a Democratic held U.S. House seat.
A Smart Politics historical review of California election returns finds that Democrats have now successfully held 200 consecutive seats in general and special elections conducted after the Election of 1998.
Although Hahn was criticized by some for running a traditional campaign in a non-traditional election year and matchup, she was able to notch a 9.1-point victory over the conservative businessman who surprised many by eking out a second place finish in May in the heavily Democratic district.
The 36th CD has been vacant since late February when nine-term Democrat Jane Harman resigned to head the Woodrow Wilson International Center for Scholars.
Democrats have now held their California U.S. House seats in 192 consecutive general election races over the last the last six cycles plus eight seats in special election races they have had to defend since 1999.
But while the Republicans are currently suffering through a 0-200 stretch in pick up attempts, Democrats have won seven GOP-held seats in the Golden State out of 125 general and special election matchups during this 13-year period, or a 6 percent pick-up rate.
Democrats won five Republican seats in 2000 (CA-15, 27, 31, 36, and 49), one in 2002 (CA-39) and one in 2006 (CA-11).
Californians are now making up a larger and larger percentage of the Democratic caucus in Congress – currently resting at 18 percent (34 of 193 members), which marks the largest percentage in the history of the state.
Last November, a Smart Politics report of the last 81 election cycles dating back to 1850 found the Democratic Party was also comprised of a larger percentage of Californians and New Yorkers in the U.S. House than at any point since California joined the Union, at more than 28 percent.
The last time California Republicans won a Democratic-held House seat was when they picked off the 3rd and 36th CDs in November 1998.
In that year's 3rd CD race, GOPer Doug Ose won an open seat race previous held by Democrat Vic Fazio, while Republican Steven Kuykendall narrowly defeated Janice Hahn by less than 5,000 votes in the 36th CD after Jane Harman retired from Congress the first time after three terms.
Harman then defeated Kuykendall by less than 5,000 votes in 2000 to win back her seat en route to six consecutive victories.
Aside from the two GOP victories in 1998, the only other Republican pick-up in a California U.S. House race since the 1994 Republican Revolution was a 1995 special election victory in the state's 15th CD by Tom Campbell after the resignation of Norman Mineta.
Follow Smart Politics on Twitter.