Tim Kaine's Ball and Chain: His DNC Past
Only one party chair has successfully entered or reentered political office by winning a U.S. Senate seat in the last 100 years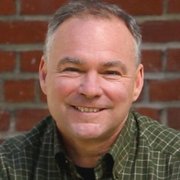 Tim Kaine seems to have met political expectations by getting out of the gate with $2.25 million raised during the 2nd Quarter of 2011.
The former Virginia Governor has now moved slightly ahead in cash on hand over his likely Republican opponent – former Senator George Allen, who declared his candidacy nearly three months before Kaine and has raised over $2.5 million to date.
But raising money was not expected to be a problem for the well-connected Kaine, who spent the last two years as Chair of the Democratic National Committee (DNC).
But will Virginians see the DNC bullet point on Kaine's resume as an asset or a liability when deciding between the two high profile candidates next year?
A Smart Politics study of historical election returns over the past 100 years finds that several Democratic and Republican Party chairmen have attempted an entry (or reentry) into political office during or after their chairmanship, but only one has successfully done so by winning a U.S. Senate seat.
Of course, political careers are not ended per se simply because an individual becomes a party chair for one of the two major parties.
Over the last generation, former party chairs have gone on to win the presidency (George H.W. Bush), governorships (Haley Barbour in Mississippi, Ed Rendell in Pennsylvania), and even a State Treasurer post (Steven Grossman in Massachusetts).
Additionally, several party chairmen who were sitting U.S. Senators at the time of their tenure were able to get reelected to the nation's upper legislative chamber: Kentucky Republican Thruston Morton in 1962, Washington Democrat Scoop Jackson in 1964, Kansas Republican Bob Dole in 1974, and Connecticut Democrat Chris Dodd in 1998.
(One popularly elected Senator, Ohio Republican Simeon Fess in 1934, lost his reelection bid coming off the end of his chairmanship in 1932).
Kaine, however, isn't an incumbent, and may have difficulty campaigning in a purple state like Virginia with such deep blue partisan colorings from his recent political past – inextricably linked to the national Party after a two-year reign as its lead spokesman.
Moreover, Kaine is trying to navigate a political trail that has not been cleared in decades.
In fact, the one individual who made the leap from party chair to the U.S. Senate, with no other elected office in between, did so 95 years ago.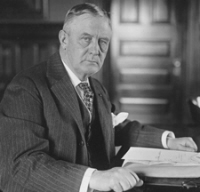 In 1916, former Republican Chair Harry New (1907-1908) was elected to the U.S. Senate seat in his home state of Indiana when he narrowly defeated Democratic incumbent John Kern.
New's stay in the Senate was short-lived however, failing to receive his party's nomination six years later in 1922.
Two other former party chairs were eventually elected to the U.S. Senate, but were first elected to several terms in the U.S. House as a stepping-stone.
Tennessee Democrat Cordell Hull (1921-1924) returned to the U.S. House winning the elections of 1922, 1924, 1926, and 1928 before winning the Volunteer State's U.S. Senate race in 1930.
Massachusetts Republican Hugh Scott (1948-1949) continued to serve in the U.S. House after his chairmanship ended by winning the elections of 1950, 1952, 1954, and 1956 before winning his first of three terms in the U.S. Senate in 1958.
The list of failed U.S. Senate candidacies launched by party chairs over the last century is rather extensive:
· In 1916, former Democratic Chair Thomas Taggart (1904-1908) lost a special U.S. Senate election in Indiana by less than 10,000 votes to Republican James Watson. Taggart had been appointed to the seat by Democratic Governor Samuel Ralston earlier that March.
· In 1916, Democrat Party Chairman William McCombs (1912-1916) lost his New York U.S. Senate race by 15 points to GOPer William Calder.
· In 1920, Indiana Democrat Thomas Taggart made another run for the same seat he lost in 1916, but this time was defeated in his rematch against James Watson by over 13 points.
· In 1926, Republican Party Chair William Butler (1924-1928) lost a special election in Massachusetts by 5 points to Democrat David Walsh. Butler had been appointed to the Senate seat in 1924.
· In 1930, Butler ran for the Bay State's other Senate seat, but lost by 9 points to Democrat Marcus Coolidge.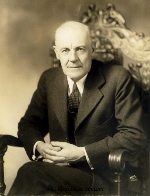 · In 1934 and 1938 former Democratic Party Chair George White (1920-1921) failed to win his party's nomination for the U.S. Senate races in his home state of Ohio.
White had been elected governor of the Buckeye State in 1930 and 1932.
· In 1934, former Democratic Party Chair Clem Shaver (1924-1928) failed to win his party's nomination for the U.S. Senate contest in West Virginia.
· In 1948, Republican Party Chairman Carroll Reece (1946-1948) was trounced by 31 points in Tennessee's U.S. Senate election won by Democrat Estes Kefauver.
· In 1960, former Democrat Party Chair James McGrath (1947-1949) lost his nomination bid for Rhode Island's U.S. Senate seat. McGrath had previously been elected to the Senate for one term in 1946 before resigning from both his seat and chairmanship in 1949 to become U.S. Attorney General under Harry Truman.
· In 1994, former Republican Party Chair William Brock (1977-1981) lost his bid for a U.S. Senate seat in Maryland when three-term Democratic incumbent Paul Sarbanes defeated him by 18 points.
· In 2008, former Republican Party Chair Jim Gilmore (2001-2002) was routed by Democrat Mark Warner by 31 points in a battle of former governors of the State of Virginia.
The key for Kaine in 2012 will be his ability to maneuver his statewide candidacy around a currently unpopular national Democratic Party, and transform himself from the Party's national face to once again representing Virginia's interests.
Of course, if Virginians are looking for a D.C. outsider in 2012, perhaps Kaine's DNC past may not be as much of a liability, given the fact that his likely Republican opponent George Allen already has six years in the Senate under his belt.
Follow Smart Politics on Twitter.