Hoekstra Challenge in Michigan U.S. Senate Race Faces Long Historical Odds
It has been over 150 years since an ex-U.S. Representative won a Senate seat in Michigan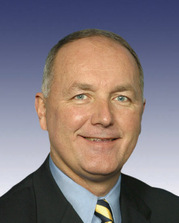 The announcement this week that former nine-term Michigan U.S. Representative Pete Hoekstra would challenge two-term Democratic incumbent Senator Debbie Stabenow may signal continued optimism for the state's GOP, who took back the governor's mansion in 2010 as well as picked up two U.S. House seats, four state senate seats, and 19 state house seats.
Although Hoekstra does not have the field to himself en route to the Republican nomination, he is trying to achieve what few Michigan politicians have accomplished in the last 100 years.
A Smart Politics study of Michigan election data finds that over the last century, only five out of 17 candidates with U.S. House experience have won Senate seats (29 percent) and each of these five were sitting members of the House at the time of their victory.
After 18 years in the House, Hoekstra has been out of office since January after his failed GOP gubernatorial bid last year.
Overall, 13 U.S. Senators in Michigan history were formerly U.S. Representatives prior to their tenure in the upper legislative chamber.
Eight of these Senators, however, won their seats before popular vote elections were introduced in 1914: Democrat Charles Stuart (elected in 1852) and Republicans Kinsley Bingham (1858), Jacob Howard (1860), Thomas Ferry (1870), Omar Conger (1880), Julius Burrows (1894), William Smith (1906), and Charles Townsend (1910).
(Another Senator, Whig William Woodbridge elected in 1840, was formerly a House Delegate from Michigan Territory).
That leaves just five popularly elected U.S. Senators who formerly served in the U.S. House: Democrat Prentiss Brown (1936), Republicans Charles Potter (1952) and Robert Griffin (1966), Democrat Donald Riegle (1976), and Stabenow (2000). (Note: Griffin was both appointed to his seat in 1966 and won a special election later that year).
All five of these Senators had one thing in common: they were all sitting U.S. House members at the time they ascended to the Senate. .
In fact, it has been 151 years since the last ex-member of the U.S. House was elected to the Senate: Republican Jacob Howard in 1860.
Howard had served one term in the House of Representatives as a Whig in the 27th Congress from 1840-1841.
Another shared characteristic of these five sitting U.S. House members is that they were not quite D.C. fixtures when they were elected to the Senate, as all had served less than a decade in the House.
Brown, Potter, and Stabenow were in their second term, Griffin was in his fourth, and Riegle had served just shy of five full terms.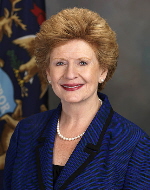 Stabenow was the only one of the five to oust an incumbent from office – defeating one-term GOPer Spencer Abraham by 1.6 points in 2000.
Brown, Potter, and Riegle won open seats while Griffin was appointed to and then successfully defended his seat in 1966 after the death of Democrat Patrick McNamara.
Against these five victories are more than double as many unsuccessful runs by sitting or former U.S. House members over the last century.
Several candidates with U.S. House service on their resumes failed to win their party's nomination, such as Republicans Patrick Kelley (in 1922) and Robert Huber (1976) and Democrats James O'Hara (1976) and Richard Vander Veen (1976).
Another eight such candidates were defeated in the general election:
· In 1930, former two-term Democratic U.S. House member Thomas Weadock lost by 57.2 points to Republican incumbent James Couzens.
· In 1948, former five-term Democratic U.S. House member Frank Hook lost by 2.2 points to Republican incumbent Homer Ferguson.
· In 1960, four-term GOP U.S. Representative Alvin Bentley lost by 3.7 points to Democratic incumbent Patrick McNamara.
· In 1976, five-term GOP U.S. Representative Marvin Esch lost by 5.6 points to fellow five-term Democratic U.S. House member (and former Republican) Donald Riegle.
· In 1982, former six-term GOP U.S. House member Philip Ruppe lost by 16.9 points to Riegle.
· In 1988, former one-term GOP U.S. House member Jim Dunn lost by 21.9 points to Riegle.
· In 1990, three-term Republican U.S. Representative Bill Schuette lost by 16.3 points to Democratic incumbent Carl Levin.
· In 1994, nine-term Democratic U.S. Representative Bob Carr lost an open seat race by 9.1 points to Republican Spencer Abraham.
Stabenow faces a growing GOP field with $4.1 million cash on hand through the 2nd Quarter of 2011.
Follow Smart Politics on Twitter.