Minnesota 2012 US Senate Race Fundraising Down 65 Percent from 2008
Nearly $7 million more had been raised at this stage of the 2008 campaign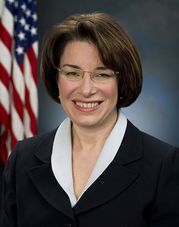 With Amy Klobuchar not yet confronted with a competitive challenger, it is no surprise that fundraising in Minnesota's 2012 U.S. Senate race is thus far a drop in the bucket compared to the kind of money that was changing hands at this stage of the election cycle in the Gopher State's 2008 race.
Overall, Senator Klobuchar has raised $4.1 million for the cycle to date through the 2nd Quarter of 2011.
With DFLer Dick Franson and Republican Doc Severson chipping in another $15K, that means all U.S. Senate candidates in the Gopher State have netted a total of $4,154,235 for the cycle.
At this point in the 2008 contest (through June 2007), more than $10.9 million had already been raised in a race that featured another one-term Senator, Republican incumbent Norm Coleman, and eventual DFL nominee and victor Al Franken.
Coleman had collected $6.8 million through June 2007 with Franken just shy of half that amount at $3.2 million.
DFLer Mike Ciresi's campaign had collected $746K with fellow Democrats Bob Olson and Dick Franson adding another $35K to the pot.
All told, more than $10.9 million had been raised at this stage of the 2008 Senate race.
After adjusting for inflation, the amount of money raised by Minnesota U.S. Senate campaigns for the 2012 cycle is down 65 percent compared to four years ago when $11,872,622 had been collected through June 2007 in 2011 dollars.
Follow Smart Politics on Twitter.