Did Ozzy Osbourne Make the First "Satan Sandwich?"
Emmanuel Cleaver was not the first public figure to use this devilish metaphor.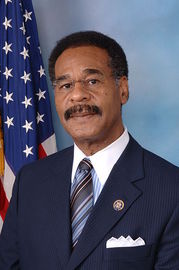 Democratic U.S. Representative Emanuel Cleaver (MO-05), one of many liberal House members unhappy with the deficit-reduction compromise plan announced on Sunday, offered one of the most memorable characterizations of the deal, calling it a "shady bill" and a "sugar-coated Satan sandwich."
A Satan sandwich?
As an ABC News article points out, a sugar-coated Satan sandwich is a variation of a Southern Moon Pie.
But while Cleaver's metaphorical use of the term received a good run in the media over the last 24 hours, it had another long half-life nearly a decade ago in a slightly different social-political context.
When the MTV series The Osbournes launched in early 2002, the family spoke of their previous home in which the Osbournes and fellow rocker Meatloaf lived on either side of former 1950s heartthrob musician – and devoutly Christian conservative – Pat Boone:
"We had Pat Boone on one side and Meatloaf on the other. It was sort of like a Satan sandwich."
This "Satan sandwich" quote ran in a number of US and international news outlets over the next year including the Pittsburgh Post-Gazette, Winston Salem-Journal, The Gazette (Montreal), Evening Standard (London), Toronto Star, Daily Telegraph (Sydney, Australia), Fresno Bee, Sunday Mirror (London), San Antonio Express-News, and Deseret News (Salt Lake City).
The Osbourne reference also predates an Urban Dictionary entry of the phrase from November 2004, in which it is described as "A sandwich made by Satan. The chiefest of hell's dark delights, it is said that just one bite of it arouses an unspeakable lust of terrific potency."
Variations of the term in cuisine, however, even predate the Osbourne quote, such as a Toronto Star article from May 1995 that calls society to "Banish the satans of sandwich" – a reference to a University of Berkeley Wellness Letter that called tuna and chicken salads the "satans of sandwiches" for their large amounts of mayonnaise and butter.
In the end, the U.S. House passed the compromise legislation by a 269-161 vote.
Representative Cleaver opted not to dine with the devil, and stuck to his guns by casting a 'no' vote.
Follow Smart Politics on Twitter.