Could Amy Klobuchar Win 60 percent of the Vote in 2012?
Only two Democratic Senate candidates in Minnesota have ever reached the 60 percent mark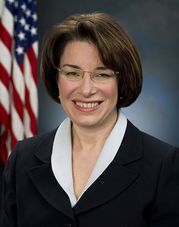 With only token opposition lined up against her 15 months out from the general election, Minnesota DFL U.S. Senator Amy Klobuchar is poised to make a run at something only two Democrats have achieved in Gopher State history.
When Klobuchar won 58.1 percent of the vote in her open seat race during the Democratic wave of 2006 against Republican Mark Kennedy, it was the best performance by a Democrat in a Minnesota Senate race since Hubert Humphrey notched 67.5 percent in 1976 to win his fifth and final term.
It was also the fourth best showing for a Democrat across all 37 elections that have been conducted in the state since the first popular vote contest in 1912.
With no bona fide Republican opponent yet in sight, moderately strong approval ratings on her resume, and millions of dollars in her campaign coffers, Klobuchar has a chance to become just the third Minnesota Democrat ever to win 60 percent of the vote in a U.S. Senate race.
Other than Humphrey's showing in 1976, the only other Democrat to reach the 60 percent mark was Eugene McCarthy when he notched 60.3 percent in a 21-point blowout over GOPer Wheelock Whitney during the Democratic landslide of 1964.
Due to strong showings by Farmer-Laborites in the 1920s and 1930s (including four cycles without a Democrat even appearing on the Senate ballot), Democrats have averaged just 36.7 percent of the vote across these 37 general and special U.S. Senate races over the last 100 years.
In recent decades, DFLers have averaged just 44.2 percent of the vote in Senate elections since Humphrey's rout in 1976 – excluding Klobuchar's 2006 triumph.
Republicans have averaged 50.7 percent of the vote during this 11-cycle span.
Minnesota GOP Senate candidates have reached the 60 percent threshold only three times in their own right – which is to say that the state's Senate elections have generally been competitive over the decades, as well as marked by strong third party performances.
In fact, six of the last seven Senate races in the Gopher State have been decided by 9 points or less, with Klobuchar's 2006 victory the lone exception.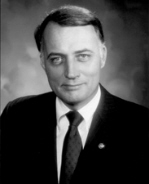 The last Republican to reach the 60 percent mark was Dave Durenberger in the 1978 special election that filled the vacancy caused by Humphrey's death earlier that year.
Durenberger won 61.5 percent en route to a 26.9-point trouncing of DFLer Bob Short in the first of his three Senate victories.
Prior to that race, the last time a Republican reached the 60 percent plateau was at the end of World War I, when Knute Nelson won 60.0 percent in 1918.
Nelson had also tallied 62.8 percent in the Gopher State's first popular vote Senate race in 1912.
Overall, one-term Minnesota U.S. Senate incumbents like Klobuchar have won 10 out of 15 reelection bids during the past 100 years.
The only glaring bit of history facing Klobuchar is her predecessors' record when a Democrat is in the White House.
Democrats (and DFLers) have won just 5 of 18 Senate contests (27 percent) in election cycles with a Democratic president in D.C., compared to 9 of 19 contests (47 percent) when a Republican is president.
The only Democrats to win Senate seats with a Democrat in the White House are Hubert Humphrey in 1948, Eugene McCarthy in 1964, Walter Mondale in 1966, Paul Wellstone in 1996, and Mark Dayton in 2000.
Former GOP state representative Dan Severson has filed to run against Klobuchar, but had raised less than $4,000 through the 2nd Quarter of this year.
Follow Smart Politics on Twitter.