Can Democrats Pick Up Three Wisconsin Senate Seats?
Democrats have recorded cycle-to-cycle gains of three or more Badger State Senate seats just 10 times over the last 64 election cycles since the mid-1880s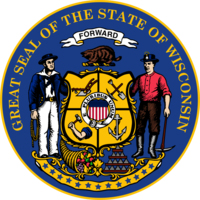 With an unknown number of Wisconsinites poised to turn out and vote in six GOP-held state senate districts on Tuesday, Democrats remain cautiously optimistic they can take back the state's upper legislative chamber after a highly-charged recall election process.
To accomplish this feat, three Republican challengers would need to fall in addition to both Democratic Senators holding serve next Tuesday in their recall elections.
Republicans took back the Senate by a 19-14 margin during the 2010 GOP wave after falling under Democratic control for the two previous cycles.
While Tuesday's election is being held in an unprecedented political environment in the Badger State, it should be stressed that netting three seats for the Democratic Party has been unusual even during general election cycles, in which nearly twice as many seats are on the ballot in a chamber that the GOP has controlled more than 70 percent of the time during this period.
A Smart Politics review of the political composition of the Wisconsin legislature over the last 125+ years finds that Democrats have notched cycle-to-cycle gains of three or more seats just 10 times since the Election of 1884, and only four times while holding as many seats as they have today – 14.
And while picking up three senate seats during a general election cycle is unusual for Wisconsin Democrats, gaining three seats mid-cycle through special or recall elections would be a historical anomaly.
Democrats recorded cycle-to-cycle gains of three or more seats during the Elections of 1890, 1892, 1912, 1932, 1934, 1950, 1972, 1974, 1976, and 2006.
Of course, many of these gains occurred during national Democratic wave elections, with Democrats netting 86 U.S. House seats in 1890, 61 seats in 1912, 97 seats in 1932, 49 seats in 1974, and 31 seats in 2006.
Republicans have generally dominated state politics in the Badger State over this century-plus period under study.
The GOP has had control of the Senate for 46 of these 64 cycles and averaged twice as many seats at the time of inauguration (20.8 seats) as the Democrats (10.4 seats), according to calculations conducted with data provided in the Wisconsin Blue Book.
As a result, Wisconsin Democrats have frequently started with a much higher ceiling when they made substantial gains in the Senate.
In fact, Democrats had won less than 10 Senate seats during the previous cycle when recording 3+ seat gains in 1890, 1912, 1932, 1934, and 1950.
Due in part to the staggered four-year term electoral system in which senators are elected in the Badger State today, partisan control of the Senate has not flipped in back-to-back election cycles during the last 125+ years.
However, the shifting of partisan control within a cycle or session has occurred three times during the past two decades, in 1993, 1996, and 1998 when special elections saw control of the chamber see-saw back and forth between narrowly-held 17-16 margins.
A flip in chamber control to the Democrats this August would give the Party much-needed momentum in their efforts to label the elections a referendum on Governor Scott Walker – after a failed attempt to do so this spring when Walker-backed incumbent David Prosser won the second closest Supreme Court election in Wisconsin in over 140 years.
Democrats will be challenging the following Republican incumbents Tuesday: Robert Cowles (SD 02), Alberta Darling (SD 08), Sheila Harsdorf (SD10), Luther Olsen (SD 14), Randy Hopper (SD 18), and Dan Kapanke (SD 32).
Democratic Senate incumbents Jim Holpern (SD 12) and Robert Wirch (SD 22) will face recall elections on August 16th.
Democratic Senator Dave Hansen (SD 30) already won his recall race on July 19th by more than a 2:1 margin over his GOP challenger, David VanderLeest.
Follow Smart Politics on Twitter.