Wisconsin Recall Vote Turnout Nearly 90 Percent of 2010 Levels
Turnout across six recall elections Tuesday was just 40,000 votes less than top of the ticket voting in 2010's gubernatorial race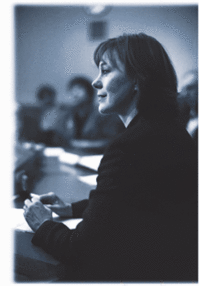 With nearly all the votes counted in Tuesday's recall elections, voters in six Wisconsin Senate districts turned out in the dog days of August at an impressive 89.5 percent level compared to the 2010 general election.
Overall, more than 390,539 votes were cast in Wisconsin's 2010 top of the ticket gubernatorial race across the six state Senate districts holding recall elections yesterday: SD02, 08, 10, 14, 18, and 32.
With the official tally still pending, more than 349,450 votes were cast on Tuesday across these same six districts, or 89.5 percent the level of the 2010 gubernatorial vote.
The strongest turnout was in SD 10, where Republican incumbent Sheila Harsdorf (pictured above) breezed to a 16-point victory over Shelly Moore in a race that saw an increase of 1,375 voters (64,349) over the top of the ticket race in 2010 (62,974).
That means turnout in the district was at 102.2 percent of the level from last November.
SD 10 turnout was also at 101.2 percent of the level seen in top of the ticket voting four years prior in 2006, in which 63,556 district residents voted in that year's gubernatorial race.
Three other districts saw levels eclipsing 90 percent of that seen on Election Day 2010:
· In SD 32, Democrat Jennifer Shilling benefited from a 96.1 percent turnout from 2010 levels in her 10-point victory over incumbent Dan Kapanke. Kapanke's defeat was expected in a district that only narrowly elected him by 2.9 points in 2008 and 5.1 points in 2004.
· In SD 08, more than 73,500 residents voted and gave incumbent Alberta Darling an eight-point victory over Democrat Sandra Pasch. That tally was 90.4 percent of 2010 levels and 94.6 percent of turnout in 2006.
· In SD 18, Democratic challenger Jessica King narrowly defeated GOP incumbent Randy Hopper, with voters turning out at 90.3 percent of the level of 2010 (and 87.7 percent measured against 2006).
In SD 14 and SD 02, in which levels were at 86.4 percent and 71.4 percent of 2010 levels, Republican incumbents Luther Olsen and Robert Cowles won by four and 20 points respectively.
Tuesday's vote came in at 87.7 percent of the level seen during the Badger State's 2006 gubernatorial race across these six Senate districts.
Follow Smart Politics on Twitter.