Pawlenty's Exit is Quickest in History Among 3rd Place Iowa Straw Poll Candidates
The swiftest previous departure from the presidential race for a third-place finisher at Ames was 67 days after the Straw Poll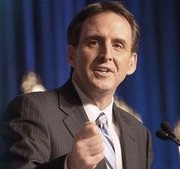 Tim Pawlenty's exit from the GOP presidential field Sunday morning was a swift – though not surprising – departure from a race that demonstrates how the Ames Straw Poll is more an expectations game and less about how many candidates one defeats per se.
While other candidates have withdrawn from the GOP nomination the day after Ames (e.g. Tommy Thompson in 2007) Pawlenty is by far the quickest to pull the trigger on his campaign among third place finishers in the history of the Straw Poll.
In 1999, Elizabeth Dole departed the Republican field 67 days after Ames on October 20th that autumn, on the heels of a Pawlenty-like 14.4 percent showing at the Straw Poll.
Dole, like Pawlenty, had invested heavily in Iowa in advance of the poll in hopes of gaining momentum coming out of the weekend.
In 2007, then Kansas Senator Sam Brownback ended his campaign on October 19th, or 69 days after the Straw Poll. Brownback had recorded 15.3 percent of the vote in his third place finish that year.
In 1979, two straw polls were conducted – one by the Des Moines Register in late spring and one by the Iowa Daily Press Association that fall.
Kansas Senator Bob Dole placed third in the October 1979 Straw Poll with 14.8 percent – an improvement on his 3.1 percent showing earlier that May – but only good enough to sustain his campaign another 153 days. Dole exited the race on March 15, 1980.
Tennessee Senator Howard Baker placed third in the May straw poll with 13.8 percent (and later fifth in October's poll), but remained in the race until March 6th of 1980, or 290 days after his Top 3 finish.
In 1995, conservative commentator Pat Buchanan placed third with 17.5 percent of the vote at Ames, and did not exit the race until nearly one year later on August 15, 1996 when he released his delegates on the last day of the Republican convention, or a span of 362 days.
Buchanan famously remained in the race despite winning only the New Hampshire primary and a few state caucuses in order to pressure the Dole campaign to select a pro-life running mate for the vice-presidential slot on that cycle's ticket.
The Straw Poll's other third place finisher was George H.W. Bush who won 22.5 percent of the vote in 1987.
Bush, of course, never dropped out of the race as he eventually won the nomination and presidency the next year.
Follow Smart Politics on Twitter.