Pawlenty Defeats Klobuchar? Don't Hold Your Breath
Sitting or former Minnesota governors have lost 11 of 12 U.S. Senate campaigns since popular vote elections were introduced 100 years ago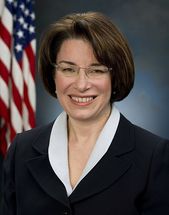 Last November, Mark Dayton became the first popularly elected U.S. Senator to win a gubernatorial election in Minnesota.
And now, just hours after his withdrawal from the Republican presidential race, rumors are circulating that former Minnesota Governor Tim Pawlenty is being recruited to do the reverse: take his political talents from the Governor's mansion to Capitol Hill, with the Party's hope that he can defeat Amy Klobuchar in the state's 2012 U.S Senate contest.
Klobuchar is riding high without a significant GOP contender some 15 months out from Election Day, on the heels of a 2006 victory which was the fourth best showing for a Democrat across the 37 elections that have been conducted in the Gopher State since the first popular vote contest in 1912.
Even presuming, for the moment, that Pawlenty does not need a breather from political campaigning after 10 years in the Minnesota House, eight years in the governor's mansion, and the remainder seeking the GOP presidential nod, Minnesota history suggests taking on Klobuchar (or even Al Franken in 2014) is risky business.
A Smart Politics review of Minnesota electoral history over the last century finds that sitting or ex-governors were elected to the U.S. Senate just one time in 12 attempts since popular vote contests were introduced in the state in 1912.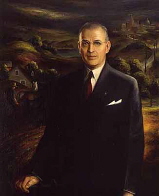 The only Minnesota governor to go on and win a Senate election during the past century was Republican Edward Thye, who defeated DFLer Theodore Jorgenson by 19.1 points while serving in his second term as governor in 1946.
Thye would go on to win a second term in the U.S. Senate in 1952 before losing to DFLer Eugene McCarthy in 1958.
Thye's victory is sandwiched in between nearly a dozen instances in which sitting or former governors either failed to win their party's nomination for the U.S. Senate or lost the general election outright.
The first such attempt was made by the state's 17th governor, Republican Adolf Eberhart.
Eberhart served for three terms and was out of office for a year when he launched his bid for the Senate in 1916.
Eberhart lost the GOP nomination, as did incumbent Moses Clapp, in an election eventually won by Republican Frank Kellogg that November.
Seven years later, sitting governor J.A.A. Preus attempted to win a special U.S. Senate election held in 1923 to fill the vacancy caused by the death of long-serving Republican Knute Nelson in April of that year.
Preus was in his second term when lost the race to Farmer-Laborite Magnus Johnson by 18.8 points.
Preus had narrowly defeated Johnson by 2.1 points in the Gopher State's 1922 gubernatorial contest.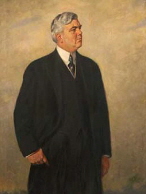 Another multi-term Republican governor, Theodore Christianson, failed twice in his ambition to win a U.S. Senate seat.
Christianson first ran while serving the end of his third and final term in 1930 when he lost the GOP nomination to incumbent Thomas Schall.
Christanson made a second attempt in 1936, and though he won his party's nomination he was trounced by 24.4 points in the general election by Farmer-Laborite Ernest Lundeen.
Minnesota's next governor, Farmer-Laborite Floyd Olson, also launched a U.S. Senate bid in his third term in 1936.
Olson had flirted with the idea of a third party presidential challenge to Franklin Roosevelt, but opted to run for the U.S. Senate instead.
Unfortunately, Olson died from stomach cancer just a shade more than two months out from Election Day in August 1936.
Another Farmer-Laborite governor, Elmer Benson, made two runs at the U.S. Senate after serving one term in St. Paul.
While Benson had previously served in the Senate for just shy of a year from 1935-1936, he had been appointed to the seat to fill the vacancy caused by the death of Republican Thomas Schall.
After Benson's failed gubernatorial election campaign in 1938, he lost his U.S. Senate races by wide margins in 1940 (by 27.3 points to Republican Henrik Shipstead) and 1942 (by 18.8 points to Republican Joseph Ball).
Hjalmar Petersen, who preceded Benson as Governor, serving for four and a half months after the death of Floyd Olson, ran as a DFLer in 1958 but lost the nomination to eventual general election winner Eugene McCarthy.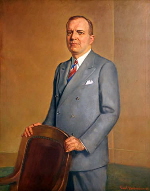 Meanwhile, Benson's successor in the governor's mansion, Republican Harold Stassen, would wait 35 years before launching his first of two U.S. Senate campaigns in 1978, in between many of his presidential runs.
Stassen lost the GOP primary by more than 70 points to eventual general election victor Rudy Boschwitz and received less than 5 percent of the primary vote when he again sought the GOP nomination in the Election of 1994.
The final ex-Governor to lose a U.S. Senate election over the past 100 years was DFLer Wendell Anderson.
Anderson, the state's 33rd governor, famously appointed himself to the U.S. Senate in December 1976 to fill the vacancy caused by the resignation of Walter Mondale who had just been elected Vice-President.
When Anderson had to face the Minnesota electorate for the first time in a U.S. Senate race in 1978, he was defeated by Rudy Boschwitz by 16.6 points.
Considering this history, Amy Klobuchar's moderately strong approval ratings, and the lack of support Pawlenty received for a presidential run even in his home state, it is unlikely the former governor will sink his teeth into another campaign over the next year.
Note: Prior to popular vote contests, three Minnesota Governors were elected to the U.S. Senate: sitting Republican Alexander Ramsey in 1863, Republican Cushman Davis in 1886, and sitting Republican Governor Knute Nelson in 1895.
Follow Smart Politics on Twitter.